Volkswagen MK7.5 Golf R Build
Author: Stathi Kavadias Date Posted:26 February 2019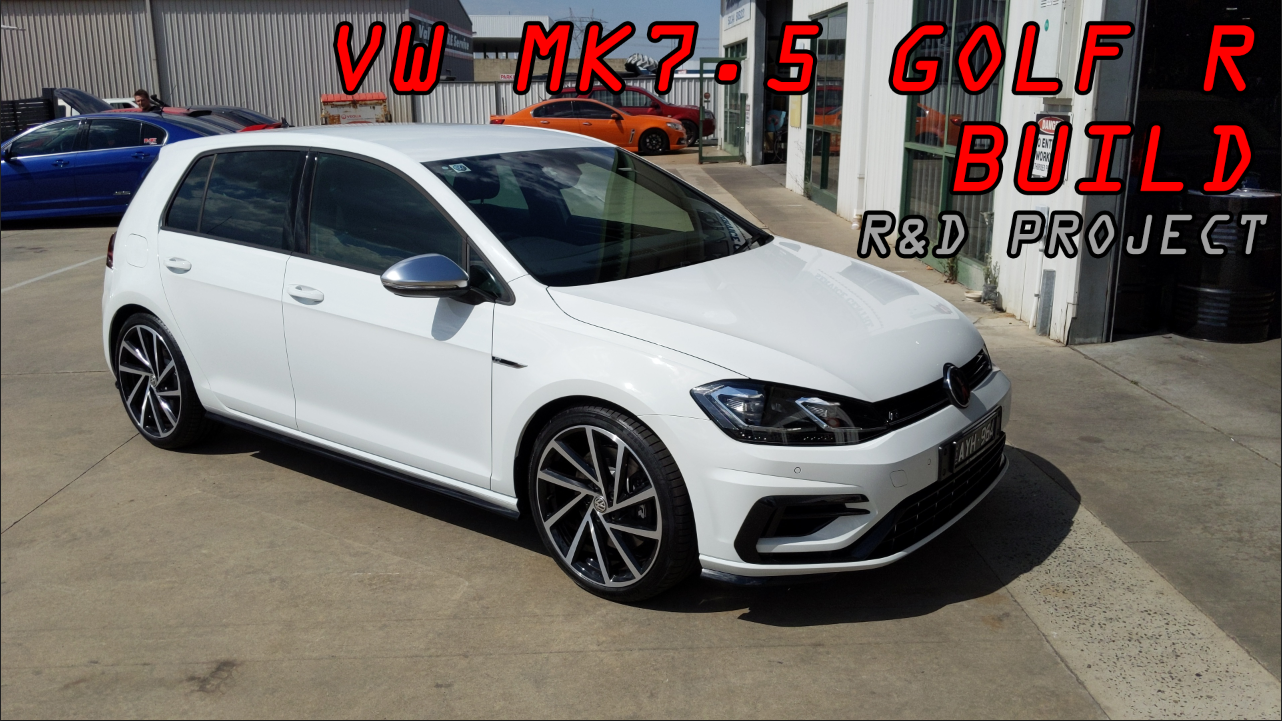 This blog will be used to keep you guys up to date with the progress and milestones we achieve with our new R&D project car.
The Volkswagen MK7.5 Golf R is already a well balanced car from factory with their lightweight 2.0L turbocharged engine producing 213KW/380Nm at the crank. The Golf R also gives the driver the advantage of 4MOTION All-wheel drive grip. But we still felt it was time to give it the Independent Motorsports tweak by pushing the limits of this car to figure out what works so we can bring new products and packages to the market. The plan for the coming year is to develop a range of performance Stages that can be shipped out. These packages will only include the nessasary parts for that power level to keep prices down. Our other goal for this year is to get the Golf to 10sec 1/4 miles with some more serious modifications and then the following year we aim to reach the 9's down the 1/4 mile.
Due to this new project we have since become resellers of CTS turbo, Integrated Engineering as well as Dub Addiction.
CTS Turbo is an automotive parts manufacturer and wholesaler that specialises in performance aftermarket parts for late-model Volkswagen https://www.ctsturbo.com/
Integrated Engineering are dedicated to providing high quality automotive performance products without comprimising on quality. Many of their products undergo hours of ruthless testing on their in-house engine and chassis dyno this is why Integrated Engineering stand behind all their products. https://www.performancebyie.com/
Dub Addiction are a euro parts supplier they will be allowing us to import a range of aftermarket parts for this project. http://www.dubaddiction.com.au/store/
Phase 1 of R&D testing
So when you buy a brand new car what's the first modification that comes to mind?
I know in all my years of modifying cars the air box is generally the first thing to get the chop and a K&N air filter generally finds it's way into the air box replacing the often restrictive air filter. But in this day and age is that the right thing to do when you consider how advanced the current technology is in modern day cars.
We have spent a fair bit of time now driving our Golf R MK 7.5 around and we have almost achieved 4000 ks since purchasing from new and we have been very eager to start attacking the car with our 1st stage of modifications, however there were some small tests that we needed to do before we started our tuning process.
We needed to determine whether installing an air intake to the car with the stock tune would reward us with some extra kilowatts. Firstly we needed to get the car on the roller dyno and get some stock baseline figures. We have tried to conduct all tests under the same conditions but as we are using a chassis dyno there are always other variables that can effect the results such as tyre temperature, oil temperature, water temperature and obviously heat soak all playing a big role in the final figure, so you need to allow + or - 3kw either way of the figures. But the biggest thing you need to look at is the shape of the dyno graph, as long as the overall shape is still the same this gives you the best indication of what's going on. So its not overly important to look at the peak power and to look at the whole dyno graph as an overall figure instead. Alot of people out there tend to get caught up on the peak power figure when really it doesn't mean anything at all!
So moving on we have conducted 3 back to back tests with the stock tune on our in-house 4wd Dyno Dynamics chassis dyno.
As you can see by the dyno graph we have done a power run with the stock air box in place, then we have done another one with the air box removed and then the final one we've removed the air silencer from the air box to see whether this causes any restriction at all.
Surprisingly there were no gains to be made!! YES you read that right there was nothing in it. Some people might say it picked up to 2.5 kilowatts from 5600RPM but I'm going to put that down to temperature in the tyre as we are on a chassis dyno and this was the last run of the test, so looking at the average I'm going to put this down to that.
So based off this information I'm going to say that if you have a brand new Golf R and you plan on spending 1000 + dollars for a fancy cold air intake, then you're better off wasting your money on strippers and beer because at this point the only gains you're going to receive from this would be the turbo sound that you will get from the intake, which I guess is pretty cool and to most people this would also give you an illusion that you actually made more power but the fact of the matter is you haven't. I guess that's a bit of a sad ending to our first stage of testing.
Phase 2 of R&D testing
We have determined that there is no point in changing the intake on a stock tune car so I guess it's time that we tune it and find out what power gains are to be made.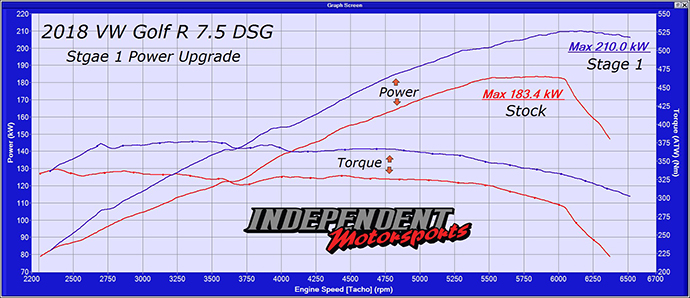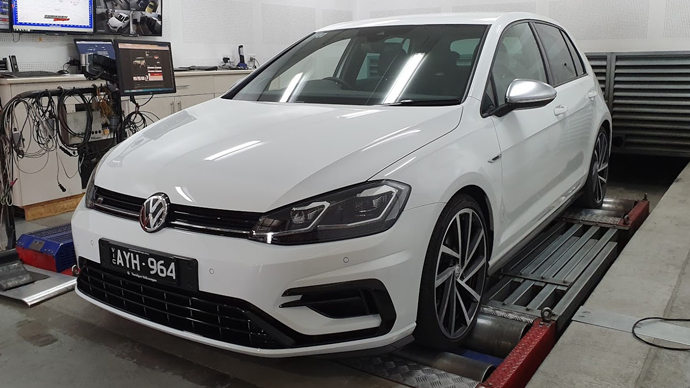 As you can see by the dyno sheet we have picked up a nice 26KW peak gain with an average of 18KW across the RPM range which is pretty awesome considering the only modifications done to this car is a ECU Remap.
Please bear in mind that this is a back to back test and once we were happy with the results we loaded the stock tune straight back in and conducted another power run for a true back to back test. As you can see the stock figure is a little lower than the previous stock figure however we are looking at the gains between the 2 tests.
The next stage will be to take the car to the drag strip and see what the results will be over the quarter mile. We are going to run the car down the track 3 times with the stock tune and then repeat this process with our Stage 1 tune. We should be able to get the car out on the track in the next 2 weeks (weather permitting).
---
Leave a comment