Volkswagen MK7.5 Golf R Build
Author: Stathi Kavadias Date Posted:5 June 2020

04/04/2022 UPDATE Time to start Stage 2 Development Testing with the ATP Turbocharger & IE Intercooler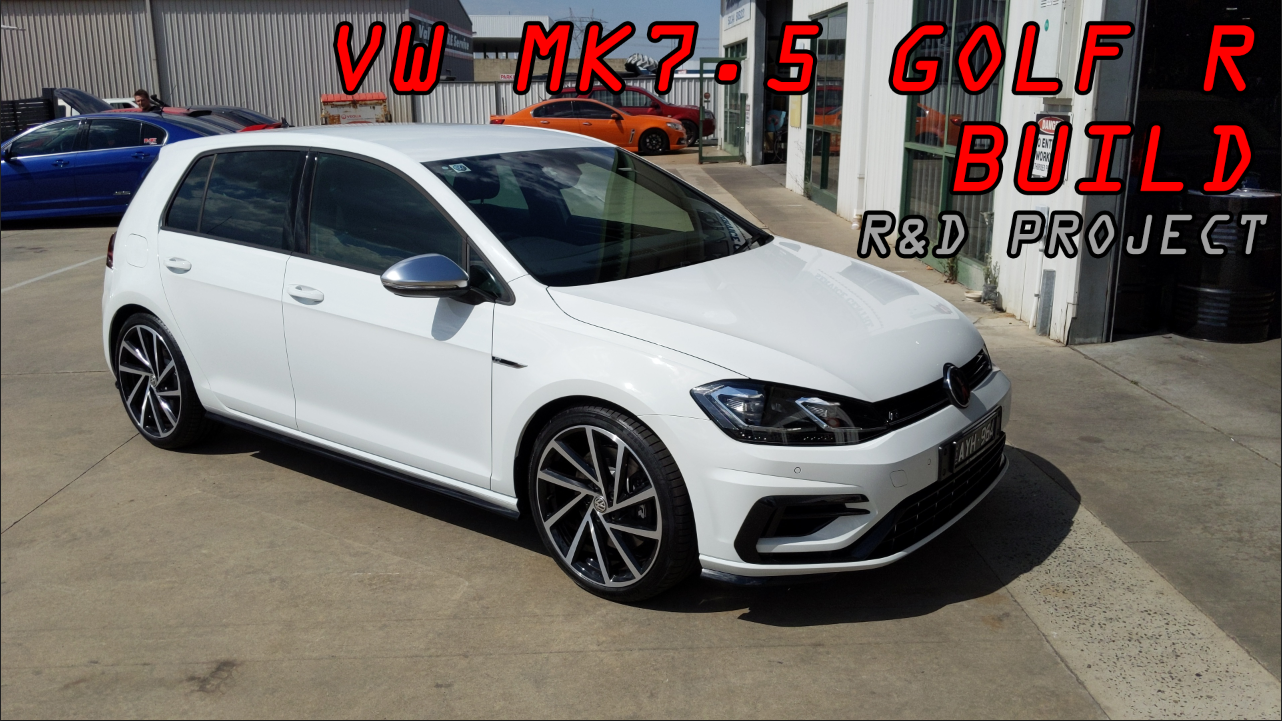 This blog will be used to keep you guys up to date with the progress and milestones we achieve with our new R&D project car.
The Volkswagen MK7.5 Golf R is already a well balanced car from factory with their lightweight 2.0L turbocharged engine producing 213KW/380Nm at the crank. The Golf R also gives the driver the advantage of 4MOTION All-wheel drive grip. But we still felt it was time to give it the Independent Motorsports tweak by pushing the limits of this car to figure out what works so we can bring new products and packages to the market. The plan for the coming year is to develop a range of performance Stages that can be shipped out. These packages will only include the nessasary parts for that power level to keep prices down. Our other goal for this year is to get the Golf to 10sec 1/4 miles with some more serious modifications and then the following year we aim to reach the 9's down the 1/4 mile.
Due to this new project we have since become resellers of CTS turbo, Integrated Engineering as well as Dub Addiction.
CTS Turbo is an automotive parts manufacturer and wholesaler that specialises in performance aftermarket parts for late-model Volkswagen https://www.ctsturbo.com/
Integrated Engineering are dedicated to providing high quality automotive performance products without comprimising on quality. Many of their products undergo hours of ruthless testing on their in-house engine and chassis dyno this is why Integrated Engineering stand behind all their products. https://www.performancebyie.com/
Dub Addiction are a euro parts supplier they will be allowing us to import a range of aftermarket parts for this project. http://www.dubaddiction.com.au/store/
Phase 1 of R&D testing
So when you buy a brand new car what's the first modification that comes to mind?
I know in all my years of modifying cars the air box is generally the first thing to get the chop and a K&N air filter generally finds it's way into the air box replacing the often restrictive air filter. But in this day and age is that the right thing to do when you consider how advanced the current technology is in modern day cars.
We have spent a fair bit of time now driving our Golf R MK 7.5 around and we have almost achieved 4000 ks since purchasing from new and we have been very eager to start attacking the car with our 1st stage of modifications, however there were some small tests that we needed to do before we started our tuning process.
We needed to determine whether installing an air intake to the car with the stock tune would reward us with some extra kilowatts. Firstly we needed to get the car on the roller dyno and get some stock baseline figures. We have tried to conduct all tests under the same conditions but as we are using a chassis dyno there are always other variables that can effect the results such as tyre temperature, oil temperature, water temperature and obviously heat soak all playing a big role in the final figure, so you need to allow + or - 3kw either way of the figures. But the biggest thing you need to look at is the shape of the dyno graph, as long as the overall shape is still the same this gives you the best indication of what's going on. So its not overly important to look at the peak power and to look at the whole dyno graph as an overall figure instead. Alot of people out there tend to get caught up on the peak power figure when really it doesn't mean anything at all!
So moving on we have conducted 3 back to back tests with the stock tune on our in-house 4wd Dyno Dynamics chassis dyno.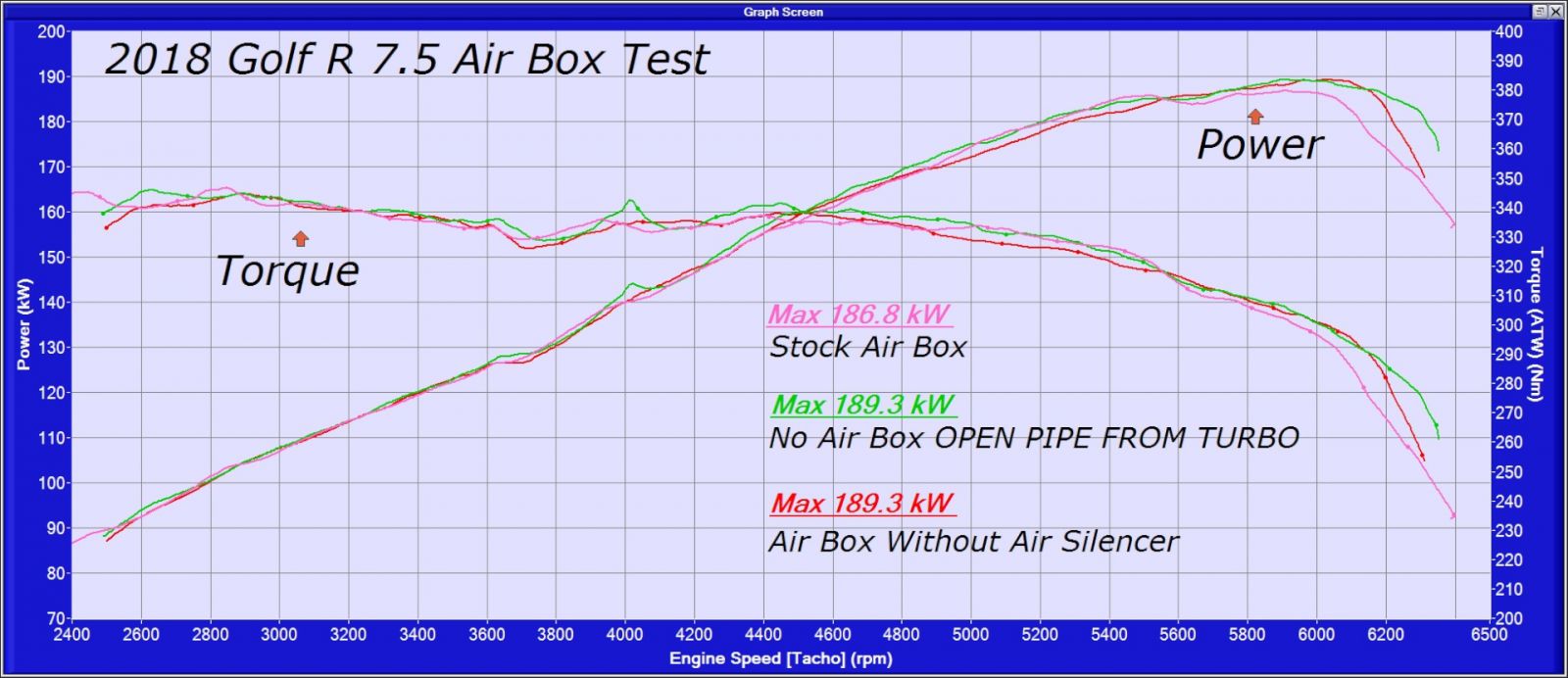 As you can see by the dyno graph we have done a power run with the stock air box in place, then we have done another one with the air box removed and then the final one we've removed the air silencer from the air box to see whether this causes any restriction at all.
Surprisingly there were no gains to be made!! YES you read that right there was nothing in it. Some people might say it picked up to 2.5 kilowatts from 5600RPM but I'm going to put that down to temperature in the tyre as we are on a chassis dyno and this was the last run of the test, so looking at the average I'm going to put this down to that.
So based off this information I'm going to say that if you have a brand new Golf R and you plan on spending 1000 + dollars for a fancy cold air intake, then you're better off wasting your money on strippers and beer because at this point the only gains you're going to receive from this would be the turbo sound that you will get from the intake, which I guess is pretty cool and to most people this would also give you an illusion that you actually made more power but the fact of the matter is you haven't. I guess that's a bit of a sad ending to our first stage of testing.
Phase 2 of R&D testing
We have determined that there is no point in changing the intake on a stock tune car so I guess it's time that we tune it and find out what power gains are to be made.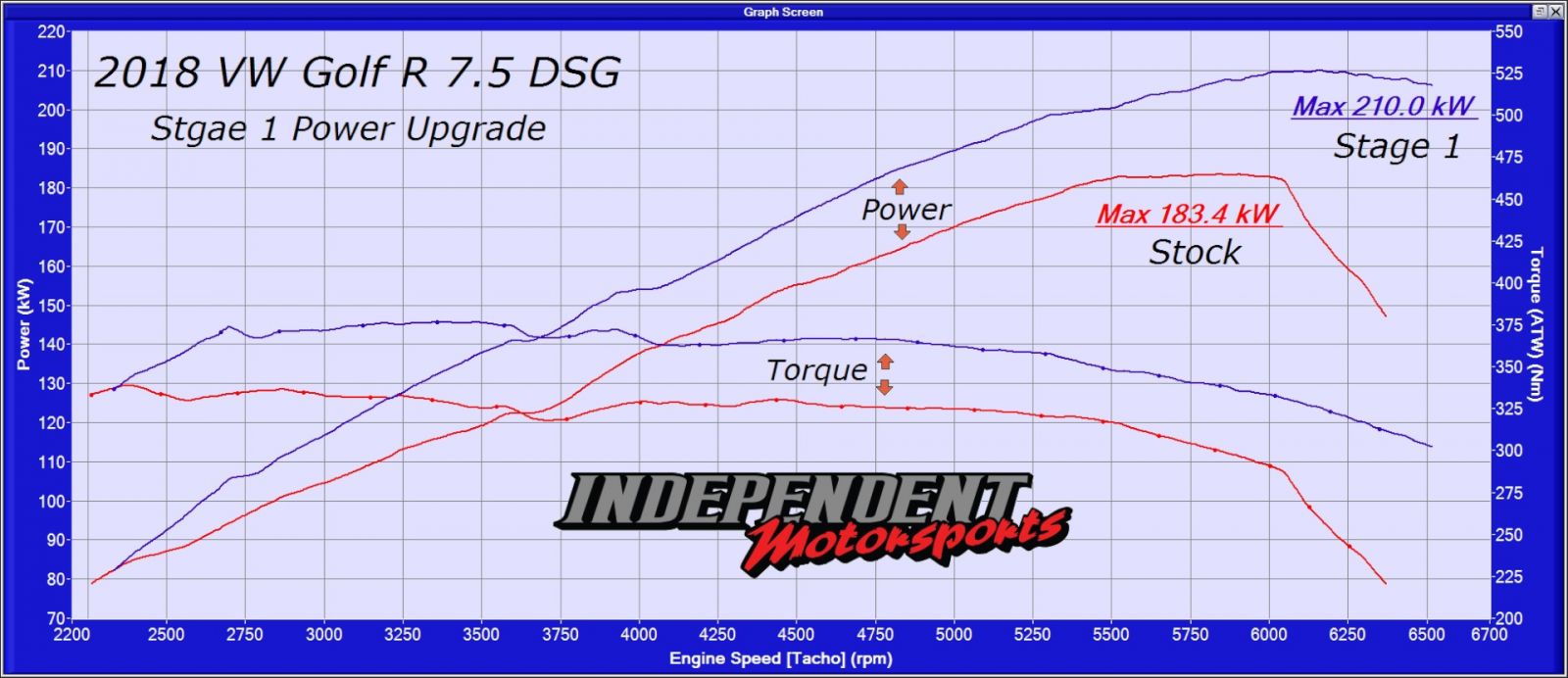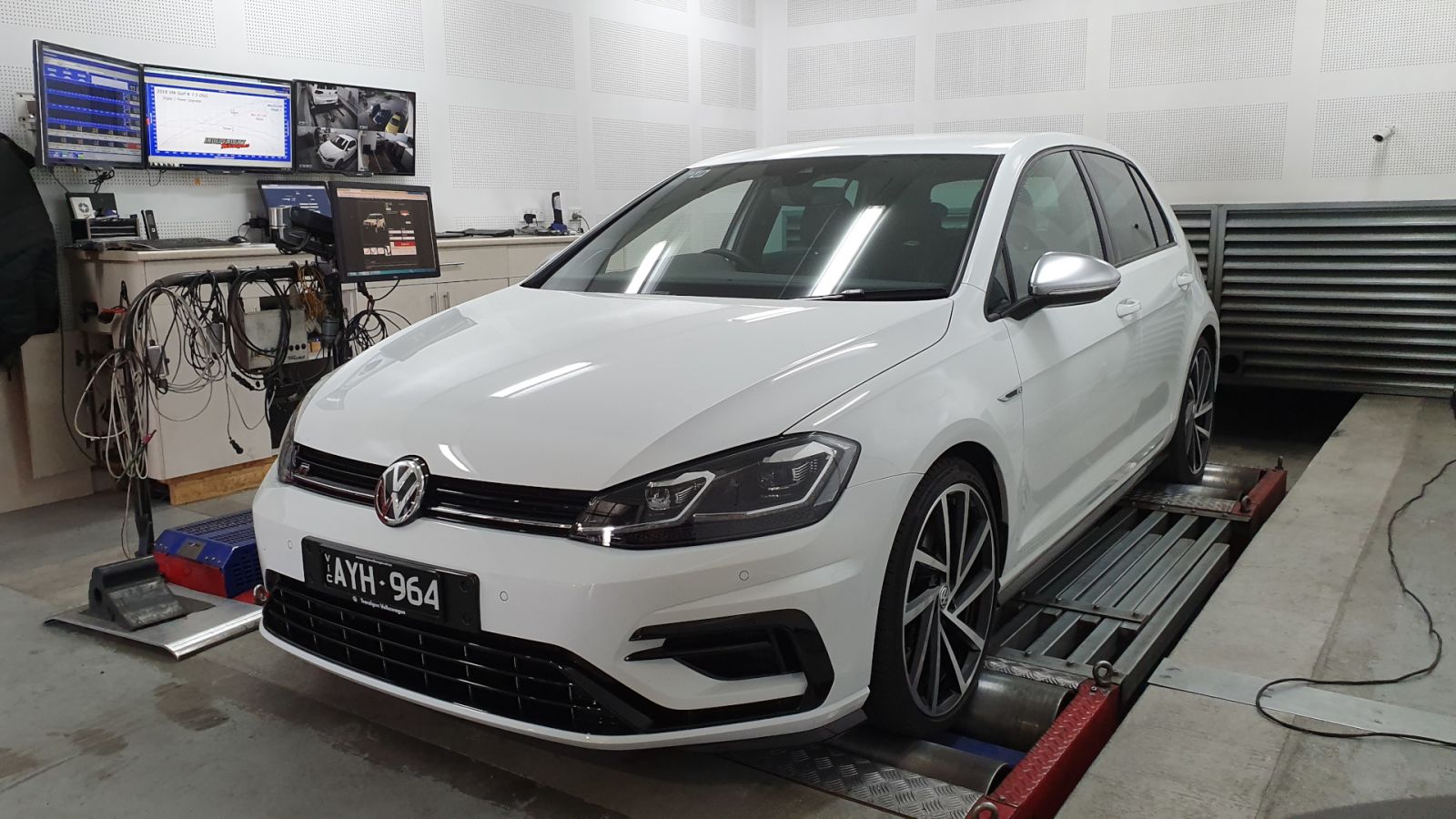 As you can see by the dyno sheet we have picked up a nice 26KW peak gain with an average of 18KW across the RPM range which is pretty awesome considering the only modifications done to this car is a ECU Remap.
Please bear in mind that this is a back to back test and once we were happy with the results we loaded the stock tune straight back in and conducted another power run for a true back to back test. As you can see the stock figure is a little lower than the previous stock figure however we are looking at the gains between the 2 tests.
The next stage will be to take the car to the drag strip and see what the results will be over the quarter mile. We are going to run the car down the track 3 times with the stock tune and then repeat this process with our Stage 1 tune. We should be able to get the car out on the track in the next 2 weeks (weather permitting).
16/06/2019 UPDATE BELOW!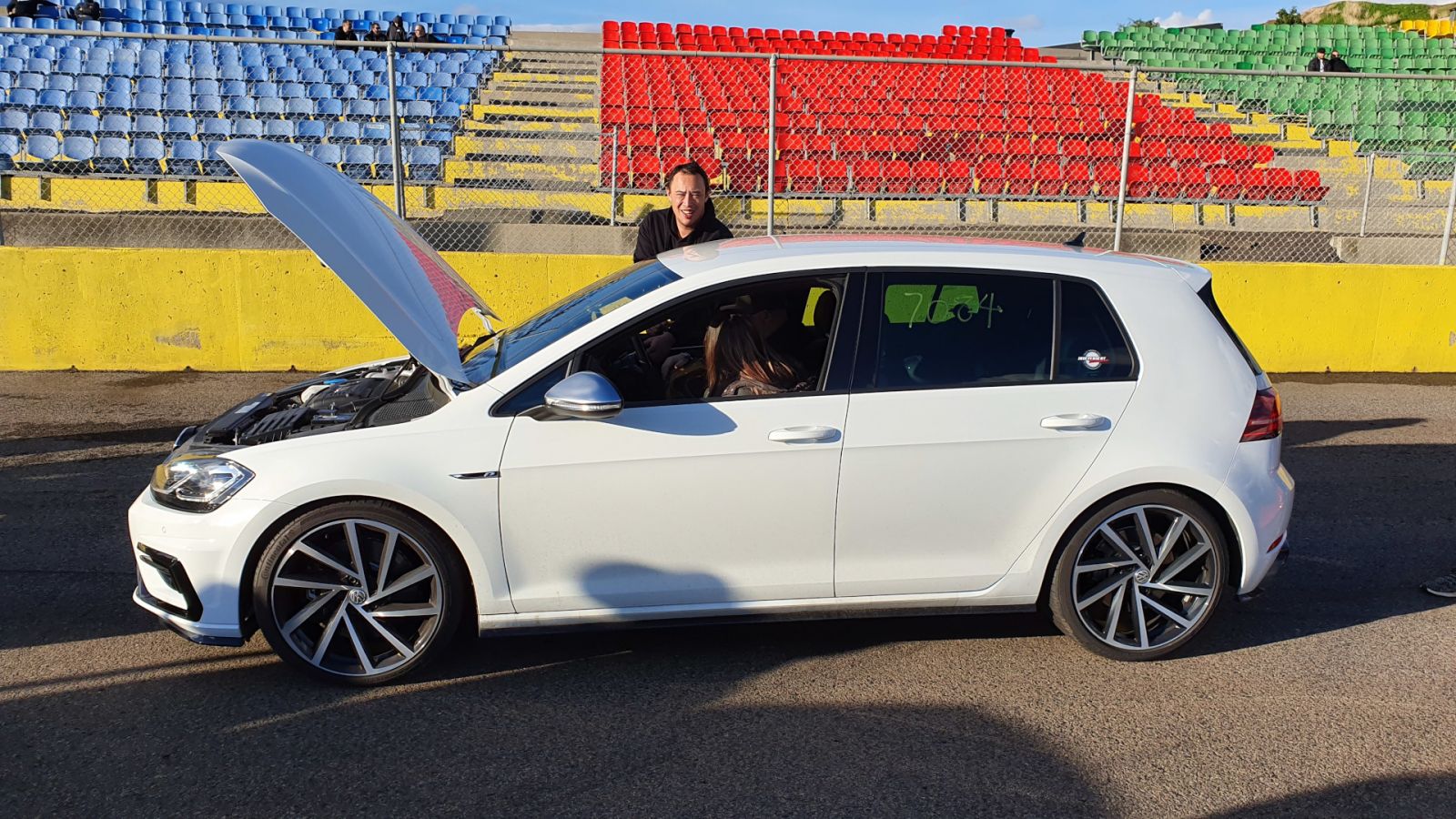 Today was the big day were we finally got to race the VW Golf R down the 1/4 mile at Calder Park Raceway we started by loading the stock tune back into the car which gave us its stock time and MPH. After that it was now time to upload our custom tune to the Golf R and see what the hot-hatch can achieve with just a tune no intake mods, no exhaust mods, not even a stripped interior it still had the spare wheel, sub, door cards, seats and even a cappuccino in the cup holder. and with 98 octane from the pump and with the man the myth the legand Munji behind the wheel. The results we got are down below.
And there you have it guys a VW Golf R MK7.5 stock will run a 12.882 1/4 at 107.85MPH and with one of our custom tunes we were able to achieve a 12.151 1/4 at 112.45MPH on the same day, same track, same PB hunting driver and same interior trim (Give or take a few sips of coffee)
Up next for the little VW Golf R MK7.5 is to redo the previous dyno pulls, we have now had hub adapters made up for our Dyno Dynamics Dyno Tech Hub Dyno the main reason we want to redo this is to eliminate any variables we can such as tire Expansion, heat, strapping and so forth on the roller dyno. The hub dyno will make all these numbers consistant and accurate.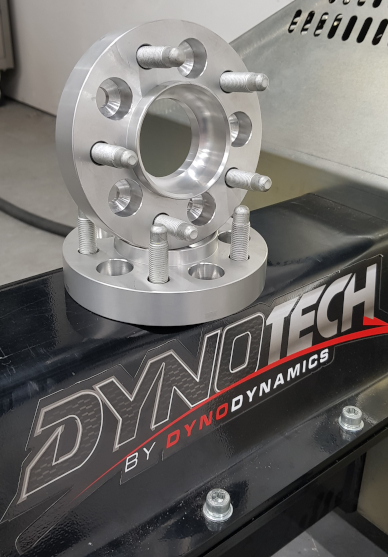 After that it will be time to play around with the Intergrated Engineering Turbo Muffler Delete & Carbon Intake with the CTS turbo Inlet pipe,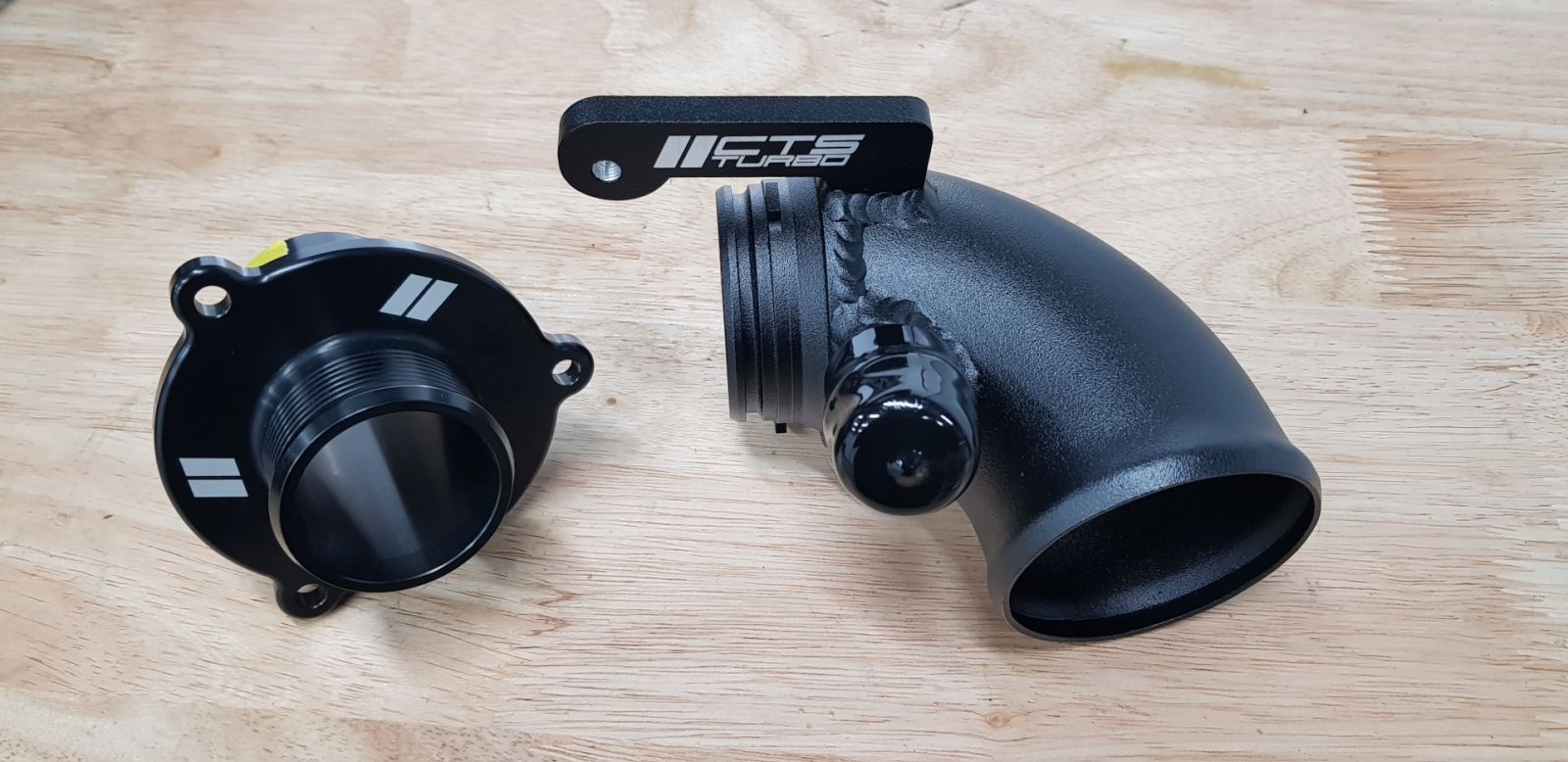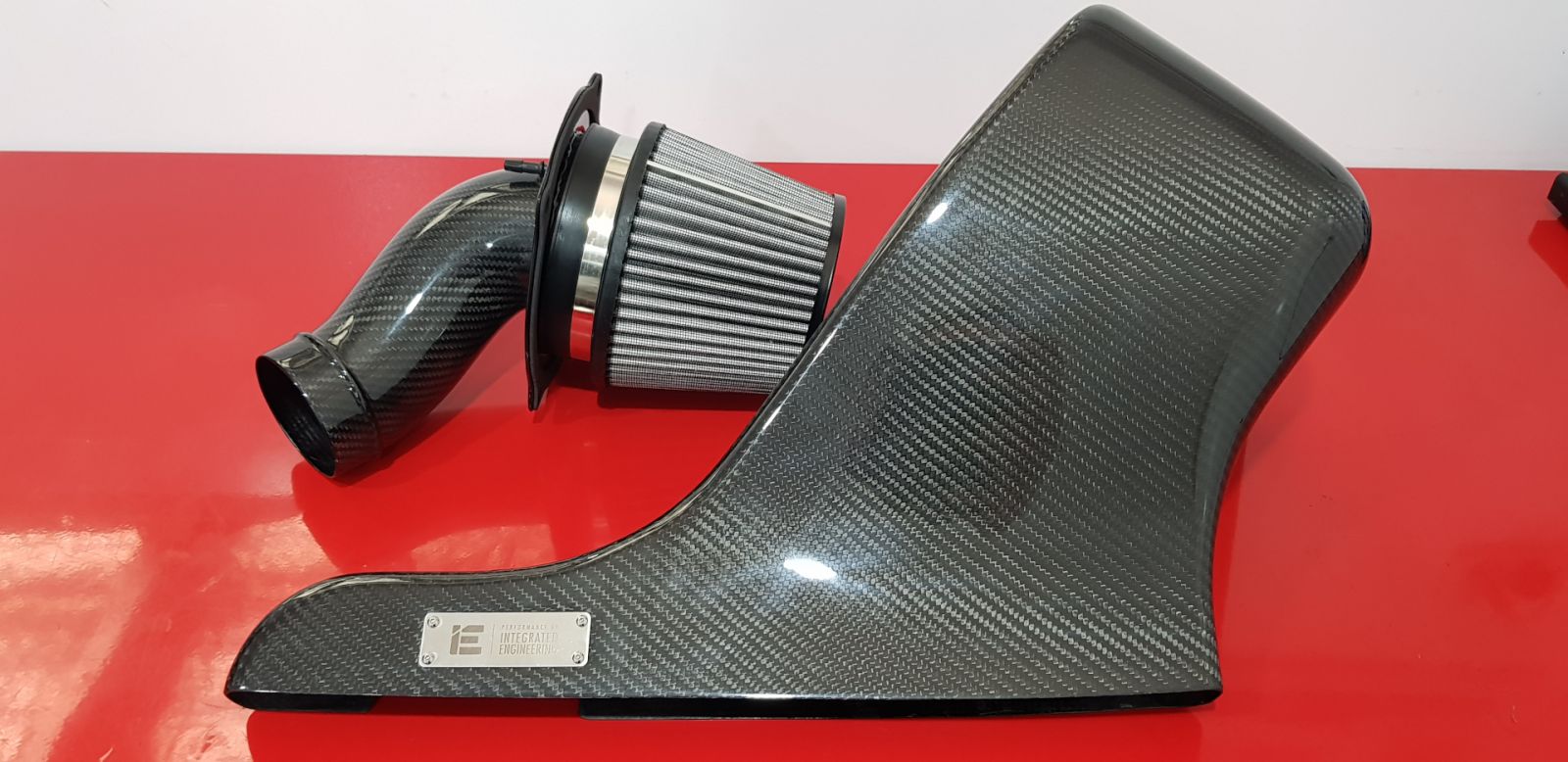 30/06/2019 UPDATE BELOW!
Phase 3

First task of the day was to set the car up on the hub dyno.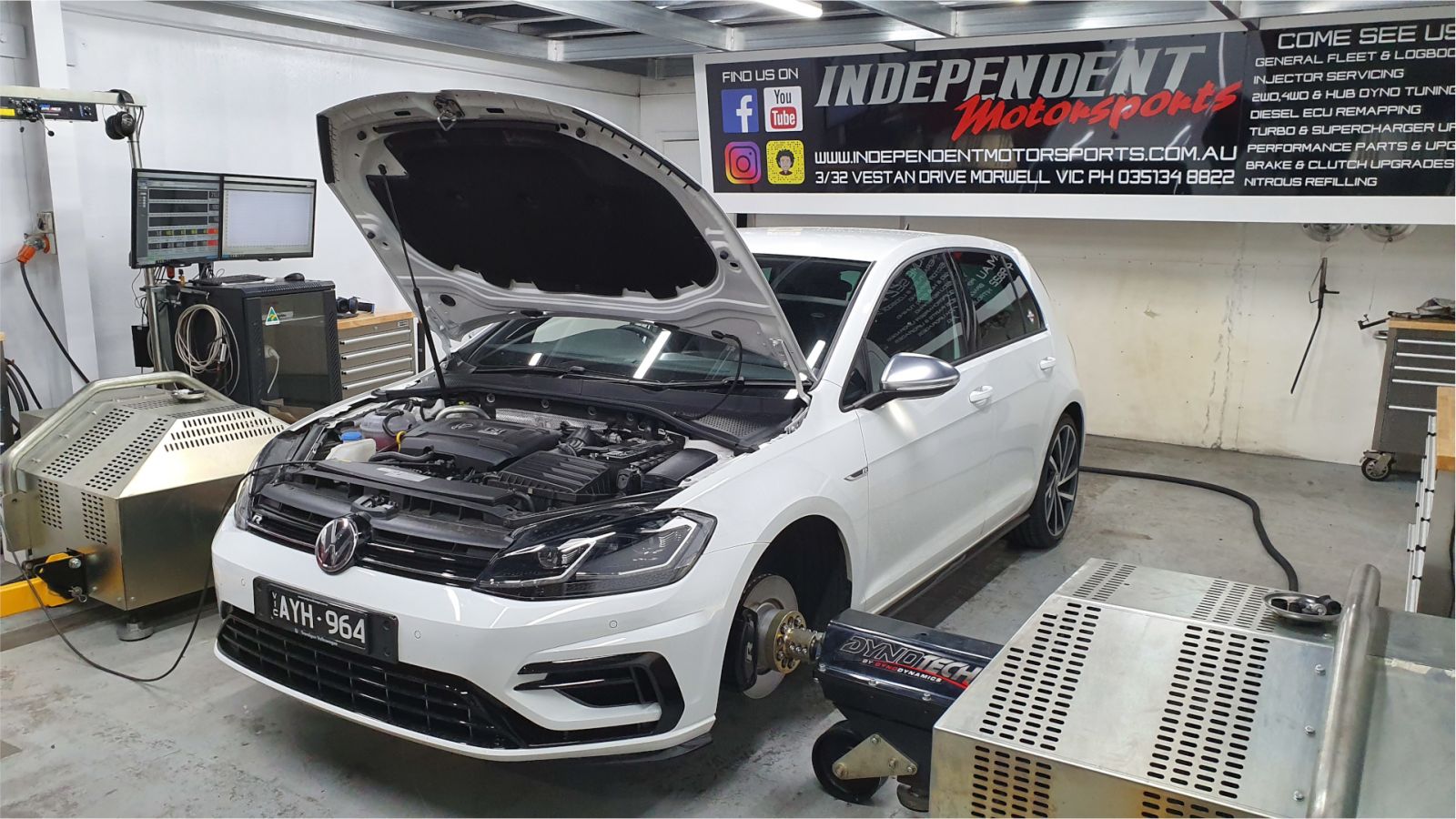 Some of you are probably thinking why not just run it on the 4WD chassis dyno which we have. The answer is we have tried and the car is just not consistent enough on the 4WD dyno. We found the torque split to be a big pain and super inconsistent at best. The whole purpose of what we're doing is all about consistency and accuracy, so the simple solution is to run the car in FWD.
Unfortunately, the level of accuracy cannot be replicated on a chassis dyno. We can do run after run and the car will always do the same thing but the biggest problem with the chassis dyno is the tyre deflation, temperature of the tyre, the way we strap the car down and how the car rolls up onto the roller. All of these factors influence the power figure massively. The only downside to the hub dyno is yes it does read a little high (19.2kw to be exact in this case) but the beauty of this is the figures cannot be manipulated in the same way you can on a chassis dyno. Accuracy is key here and this is what it's all about. Let's look at the gains from stock and move on from there as let's not forget that this is a tuning tool after all.


We had a few issues as the hub adaptors we organised to be made were just a little bit off in the internal bore size so we had to resize them on our lathe and give them a quick touch up.

Once we got the car on to the hub dyno we had a few issues to get by, one being keeping the car in FWD. You can actually put the car into a roller test mode which locks the car into FWD mode. This for the better part worked quite well, however be warned it is not foolproof and if those back wheels move the slightest then it will re-engage the rear wheels. We learnt this the hard way but luckily for us we didn't do any damage to the car, however it did put on a good smoke show when the back wheels started spinning in the dyno cell after re-engaging at 5000Rpm. I must admit it scared the absolute shit out of me, so if you plan on doing a similar test my recommendation would be make sure you leave the handbrake on at all times.

We spent the good part of our Saturday well into the night testing the integrated engineering carbon fibre air box and intake tube along with their turbo muffler outlet delete. We also had the CTS turbo inlet pipe to test as well.

Test 1
Power run the car with stock calibration and no bolt-on's.

202.6Kw 363Nm stock

Test 2
Reload performance ECU calibration back in (same as the one we did the 12.1 second quarter mile).

236.9Kw 434.4Nm Tune & stock air box

Test 3
We then tested the aftermarket air box and tune, there was no surprises here as there was no gains to be made as we have previously documented.

Test 4
Tune and stock air box with CTS turbo inlet pipe, this was the biggest surprise of all netting us a 10kw increasing at 6400Rpm. Not bad for an item that cost less than $200.

247.5Kw 437.7Nm Tune & CTS turbo inlet pipe, stock Air box

Test 5
Perform the same test above with the integrate engineering carbon fibre airbox and intake pipe.
This netted us a 3kW gain in the top & 4kw at 2500rpm. Not bad but at a cost of over $1,200 I don't believe this to be good value for money at this stage of the upgrades. However once we start doing more testing on the road this may prove to be better as I do believe the ram air effect is better with this airbox compared to the OEM one.

250.7Kw 439.6Nm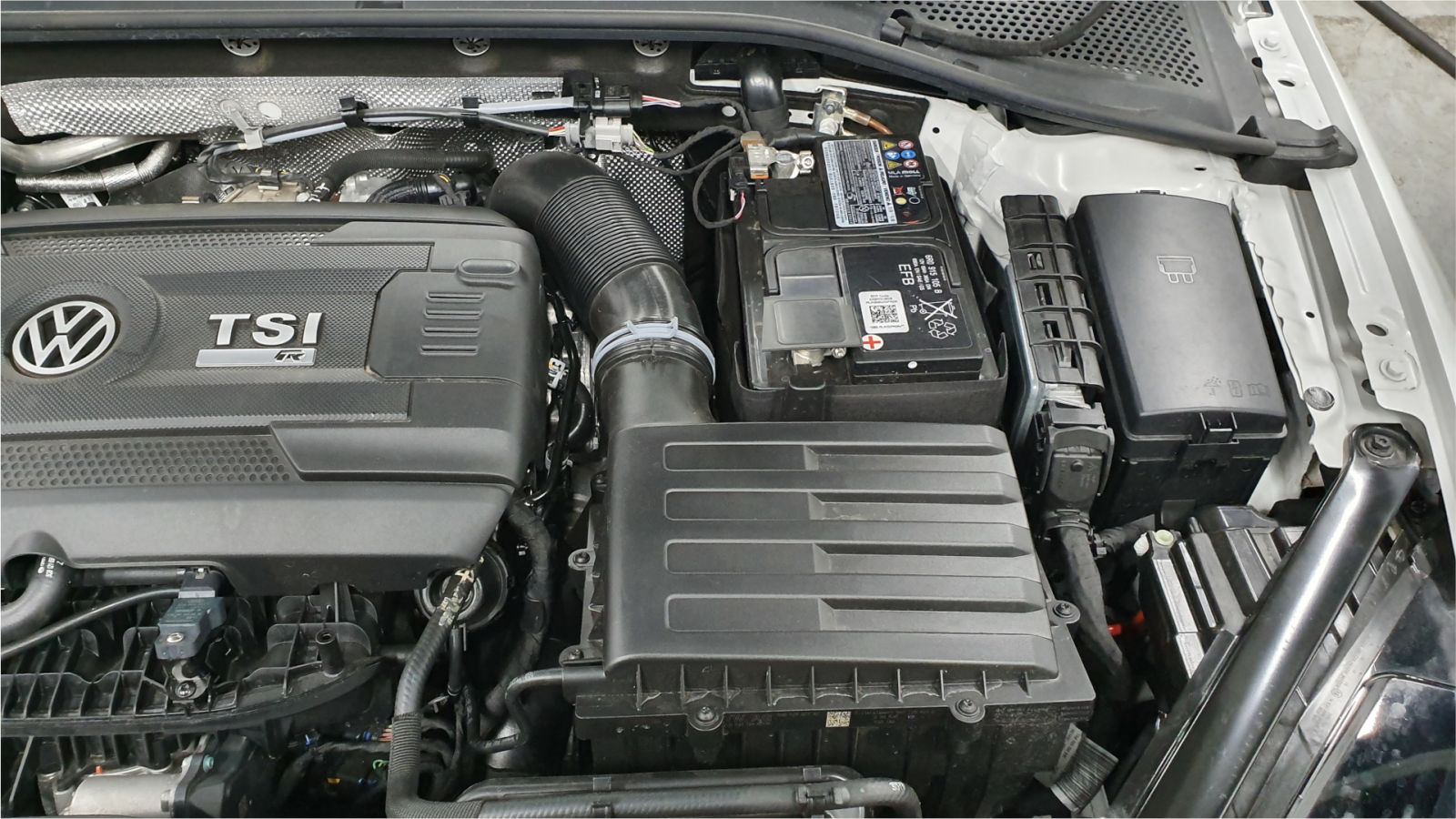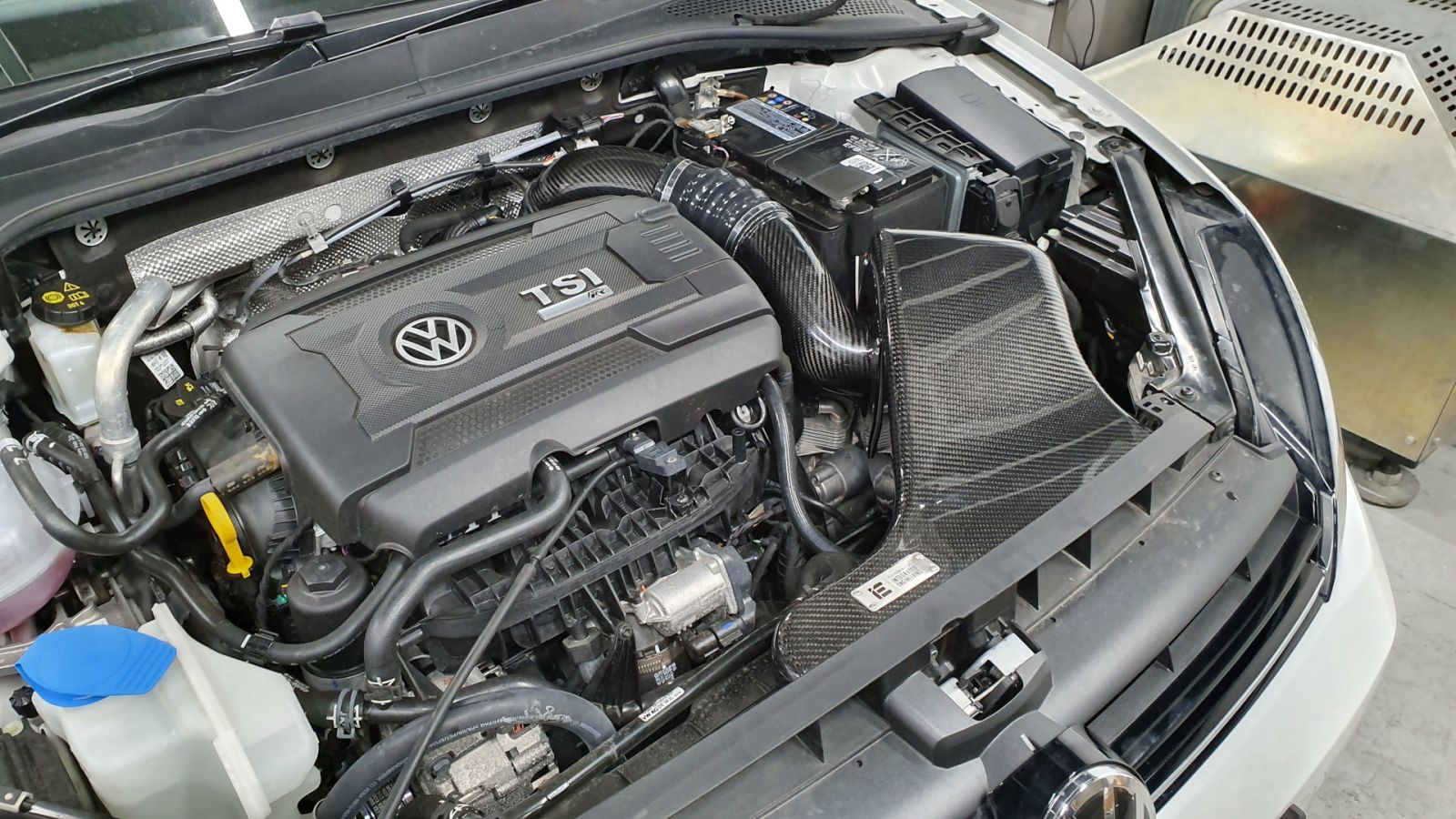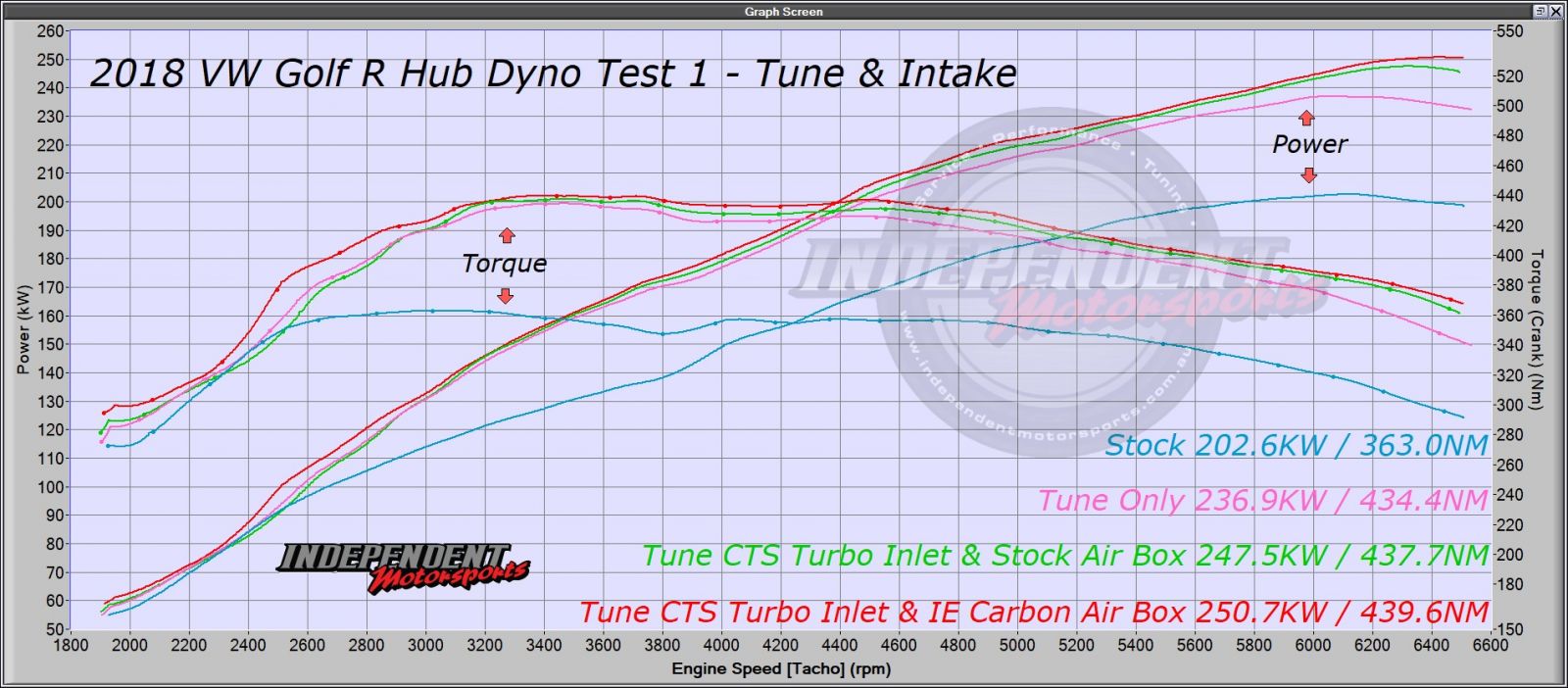 Based on the above information I think we're going to have a stage one package consisting of ECU Tune and CTS turbo inlet pipe. I believe this was the best value for money and worthy of a IMS Stage 1 Package.

As you can see in the photos the inlet diameter of the intake pipe from the intake tube has increased by 6.22mm and the nose going into the turbocharger has also increased by 3.15mm, hard to believe that this would give a 10kw gain.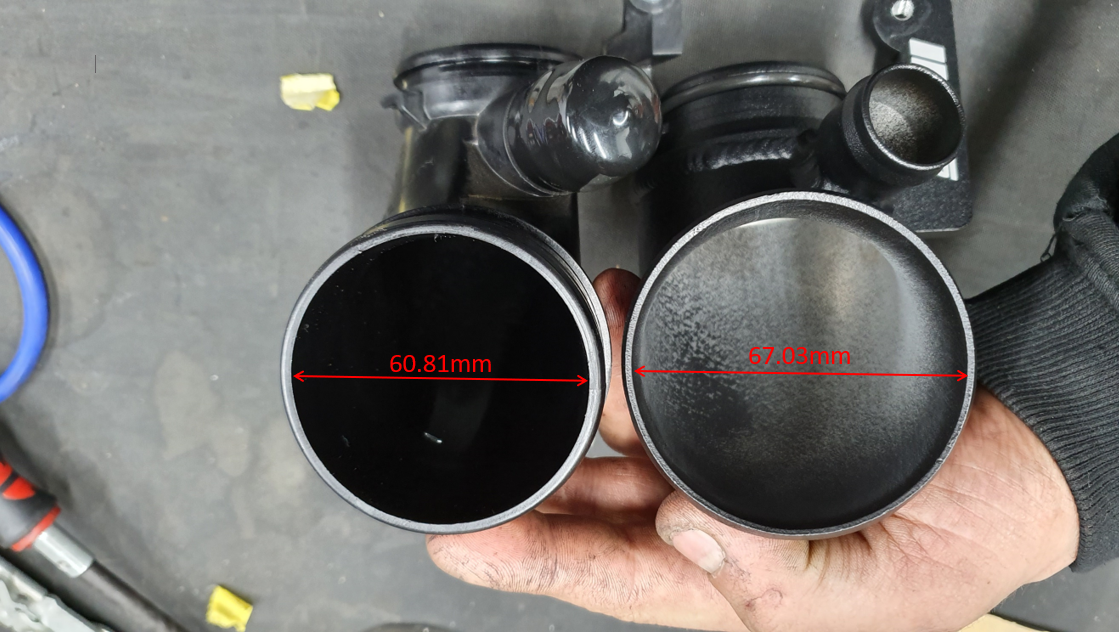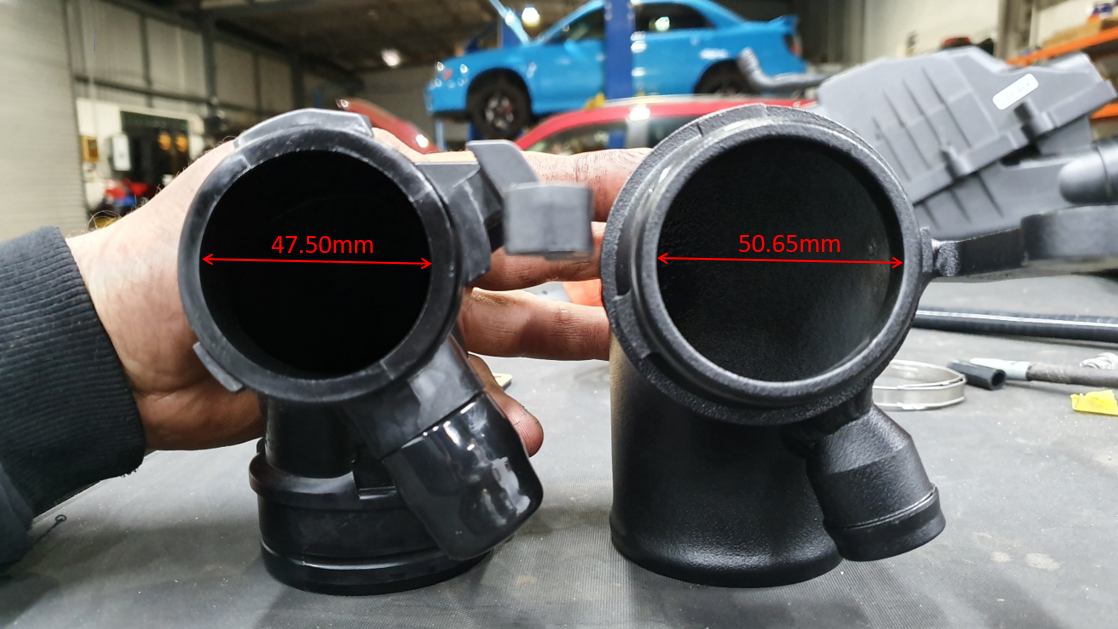 For those wondering how the turbo muffler delete pipe performs, it made the turbo sound a little bit louder but that was it there's really not much more to be said about this.
So there you have it, we have now done a back to back test with the intake parts and tuning on the hub dyno. We have made some gains and the most surprising of all was the cheapest part of the lot. Depending on the results we get in a fortnights time we will see if the new found power is going to improve our previous best of 12.1 @ 112 MPH 1/4 mile.

20/08/2019 UPDATE BELOW!
We still havent been able to make it out to Calder Park Dragway due to victorian winter weather, that paired with our recent switch over to COBB tuning software has slowed down or progress as well as some jobs at the workshop finishing up for Motive DVD Runway thrasher event in September.
On Saturday the 17th of August we took the Golf R two the Gippsland Motorplex / Bairnsdale Dragway for their Drag N Skidz event which gave us our first opportunity to do some R&D testing with the COBB Tunning Accessport V3 which we have now commenced tuning with and also support out local drag strip.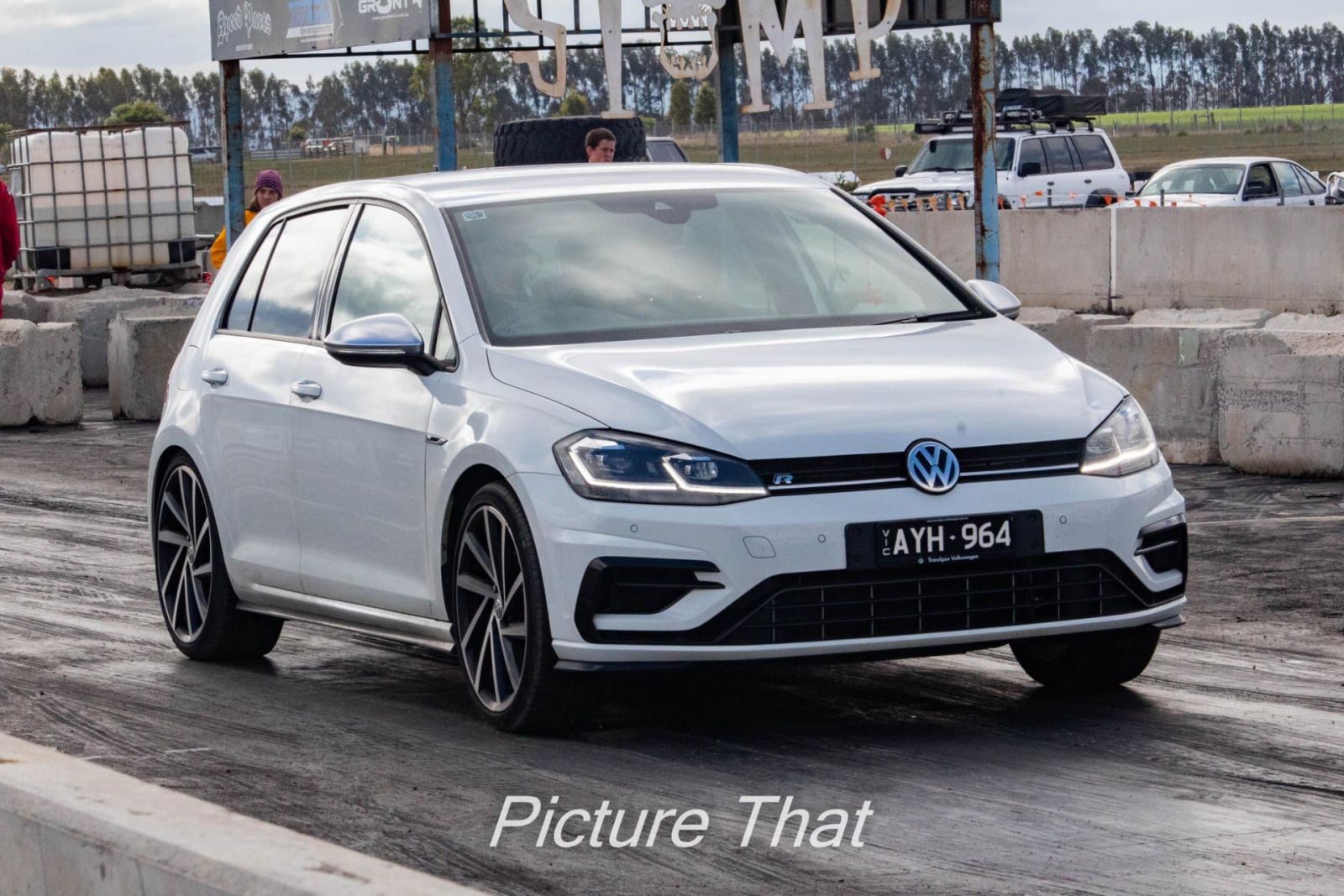 Bairnsdale is known for being a slippery track surface and it definetly lived up to its names but the slippery track conditions were no issue for our 4WD Golf R. We made some adjustments to the launch control feature via our COBB Accessport and were able to take home the first place trophy for the 6 Cylinder class.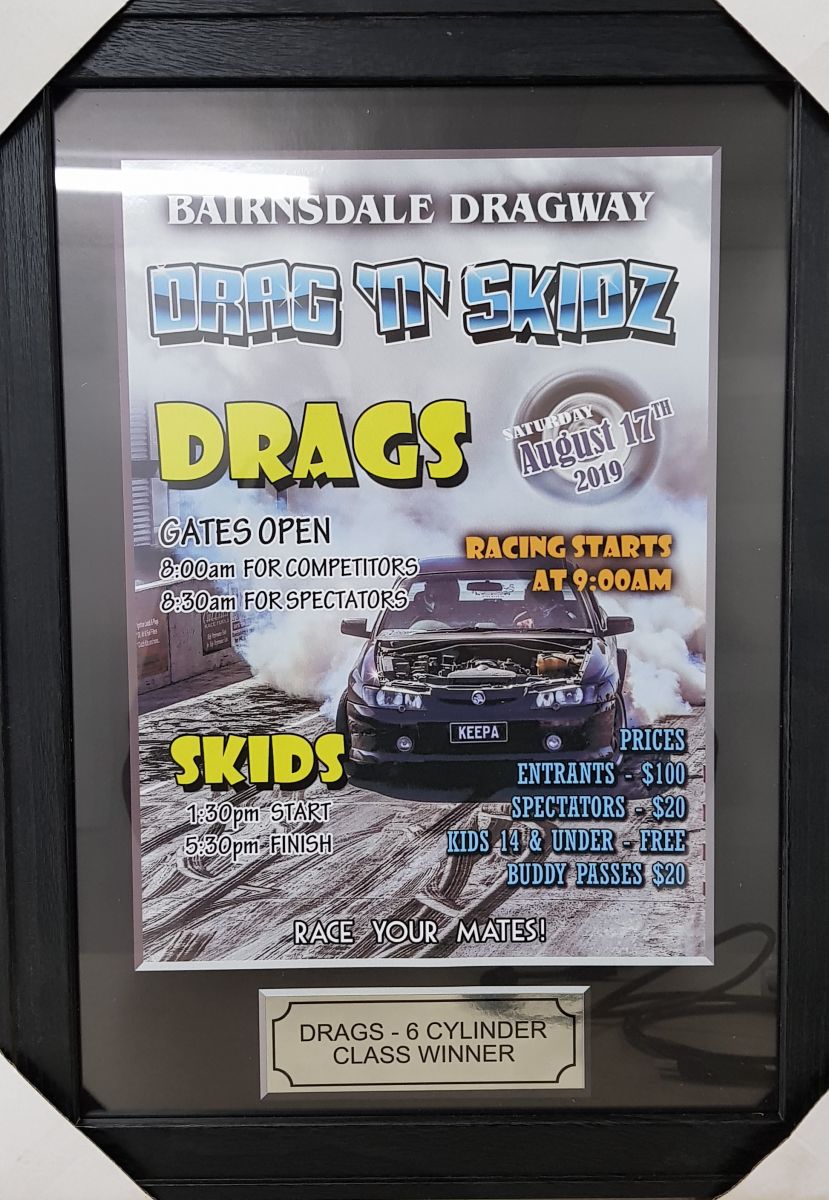 Yes we competed in the 6 Cylinder class and yes we are aware this is a 4 Cylinder turbo, but this was just how the event orginised the classes. Unfortunately this track does not currently have timing gear equipment but this is something that they are looking at getting done in the near future. This was still a great day out for all involved filled with lots of close races and great people.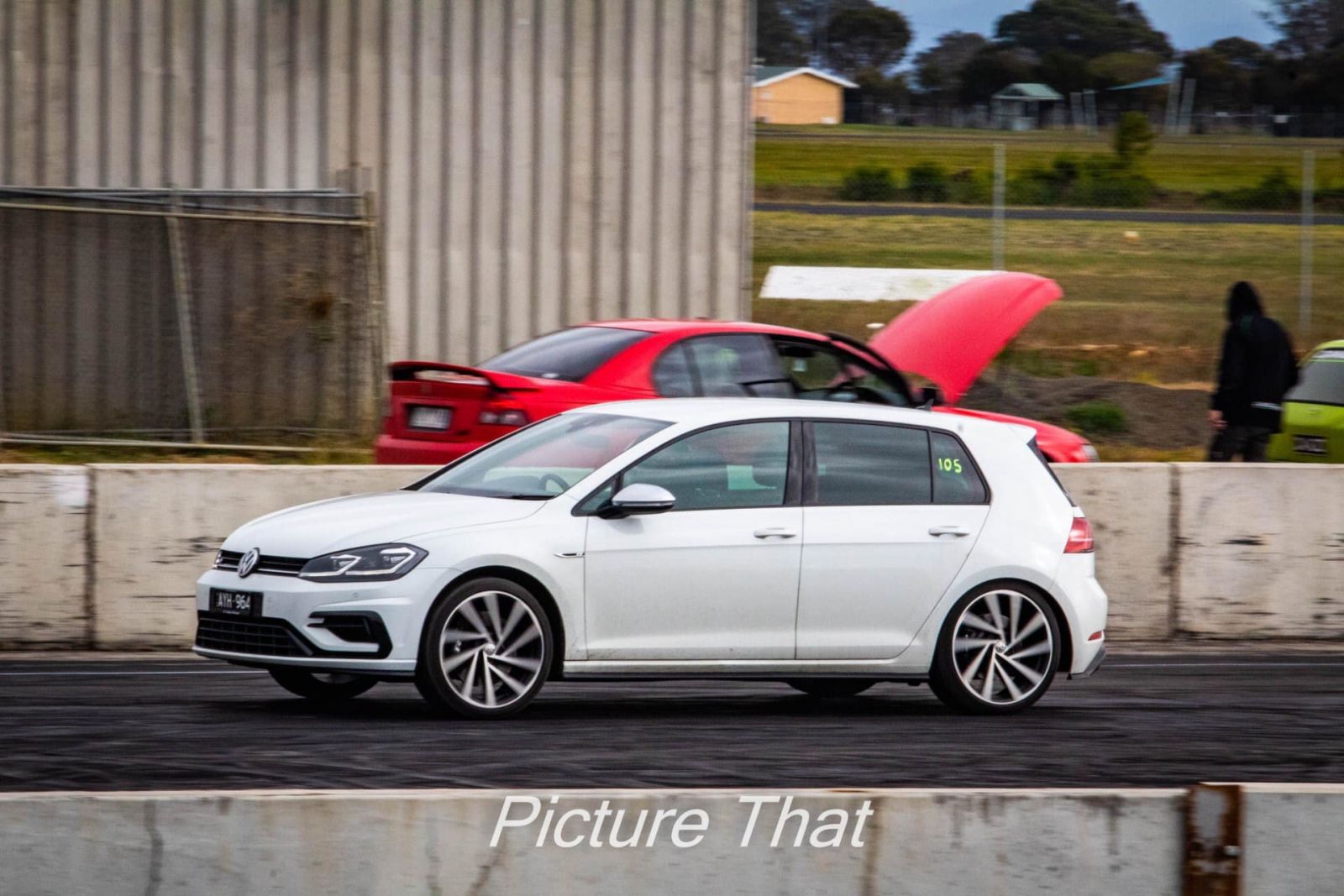 We are looking forward to working closely with COBB Tuning to achieve the most out of our MK7.5 Golf R and the possibilities of bringing new products and features to the Australian market.
23/09/2019 UPDATE BELOW!
In this update we talk about our recent day out at Calder park raceway for their sunday funday as the weather was finally all sunny and we got to make a few passes with the golf and actually get some official times for our Stage 1 Golf R.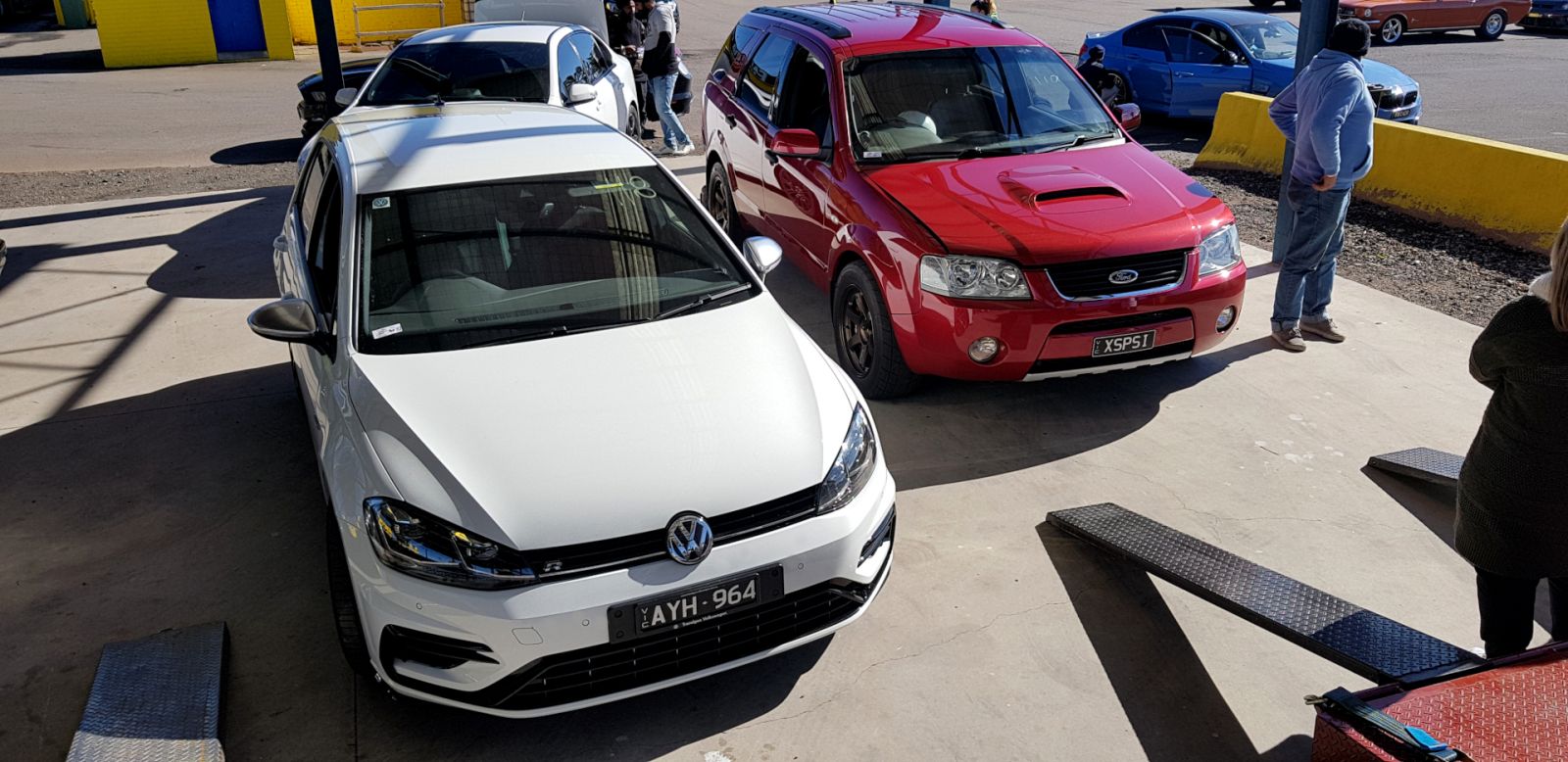 With the Melbourne weather finally drying up we got the chance to take the R&D Golf out to Calder and Jimmy our driver had a great time racing all the other Golfs.
Compared to some of the other Golfs out there we kept up with or beat most of the other golfs out there on the day that had more modifications like turbos and downpipes we believe our numbers speak for themselves.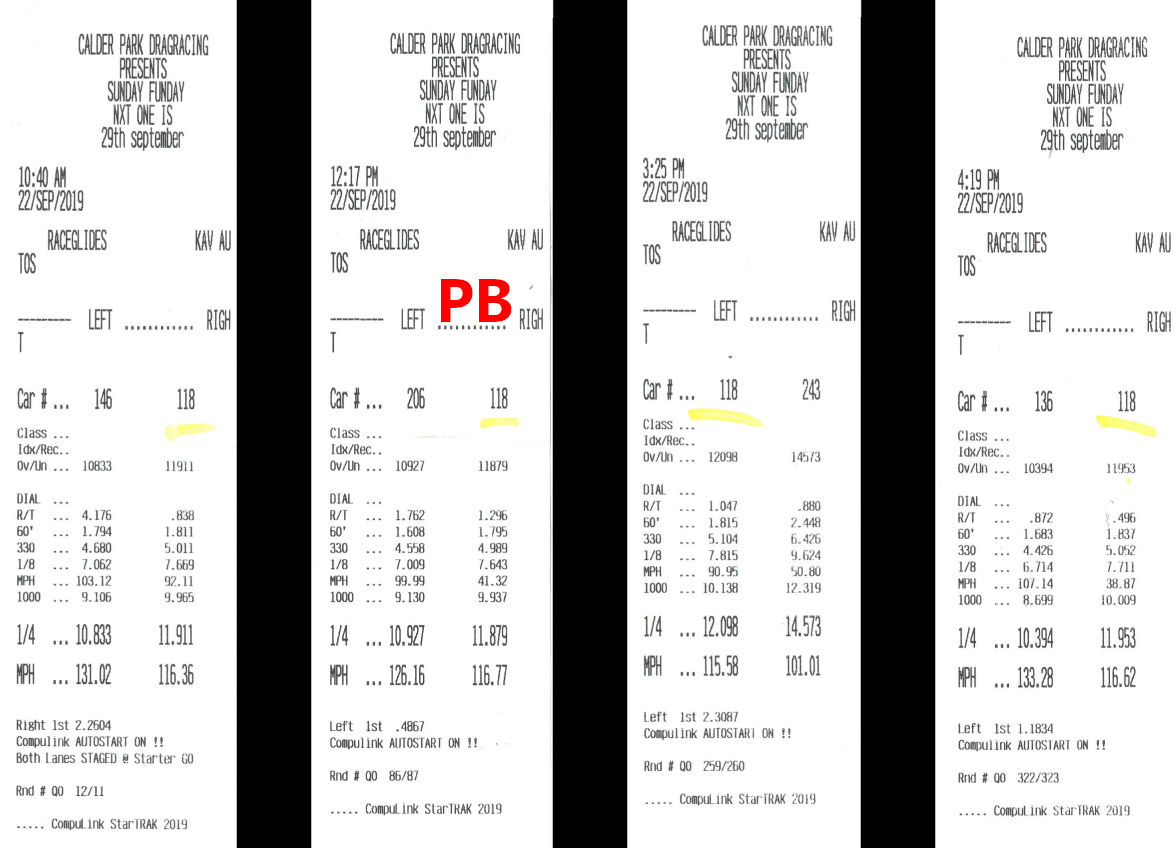 Jimmy managed to run an 11.87 @ 116MPH this is in a Golf R MK7.5 with only a Tune, IE Carbon air box and CTS turbo inlet making 250.7fwkw
The COBB Accessport V3 has allowed us to dial in the launch control and bring down that 60ft time.
We are going back to Calder park raceway on the 29th of September to try and repeat or beat these times but with a factory air box
29/09/2019 UPDATE BELOW!
WE DID IT! 11.90 with the stock intake and airbox. No smoke and mirrors, we are going to tell you what we did to run an 11 in a practically stock Golf R MK7.5.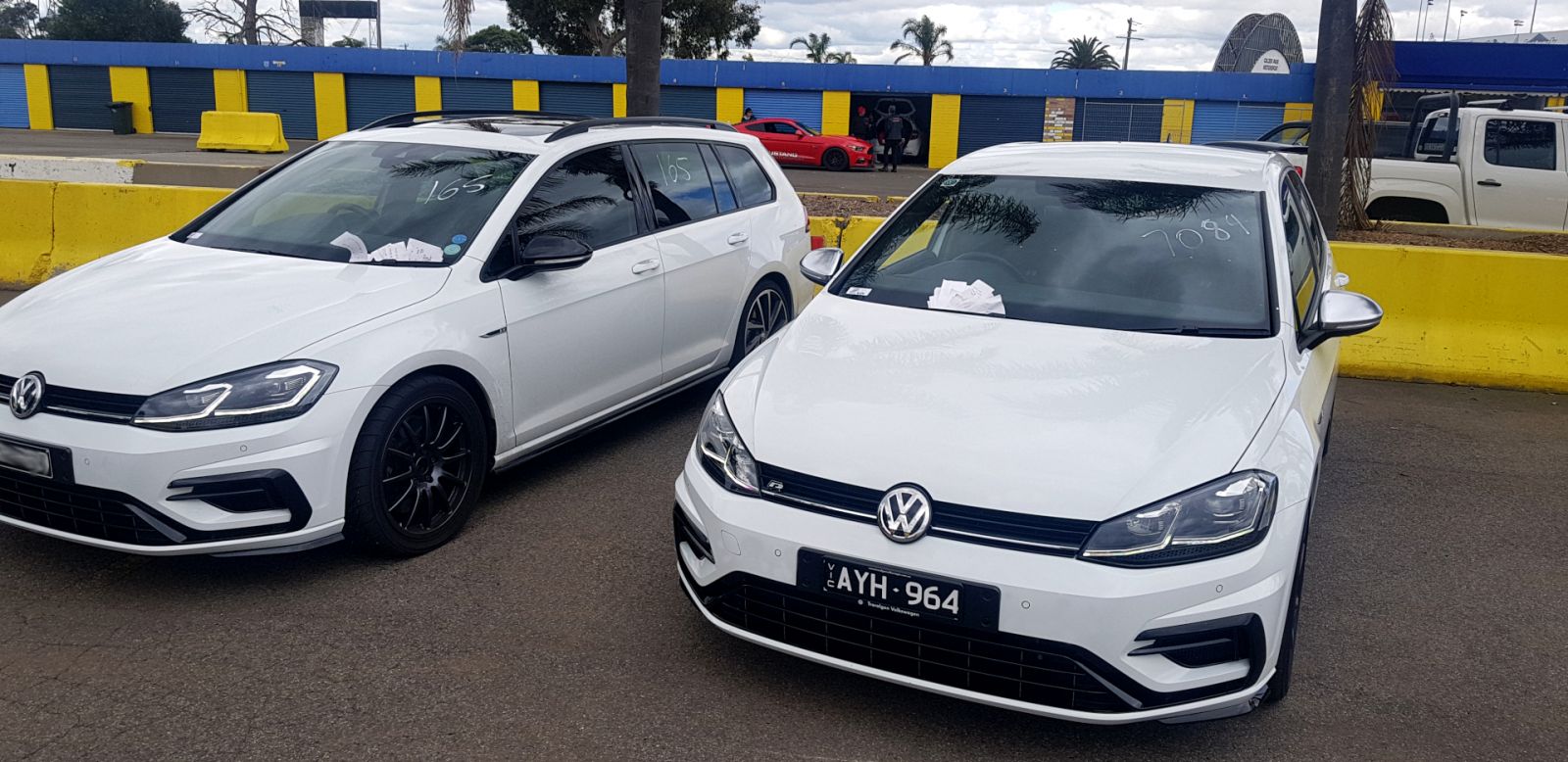 On the 29th of September Calder Park was as empty as it gets, our driver Jimmy managed to get in 17 passes in a single day which was great for our R&D testing.
We ran the Golf with its factory intake and airbox all day pass after pass with no signs of heat soaking and we were able to do hot laps. The argument that gets made is that you need an aftermarket intake to make more power and lower intake temps as well as prevent heat soak, this is untrue as far as intake temps as the factory airbox allows more air to come through the airducts then most aftermarket options. The only advantage the aftermarket intake offers is the larger intake piping from the airbox, but with our CTS turbo inlet pipe we see greater gains.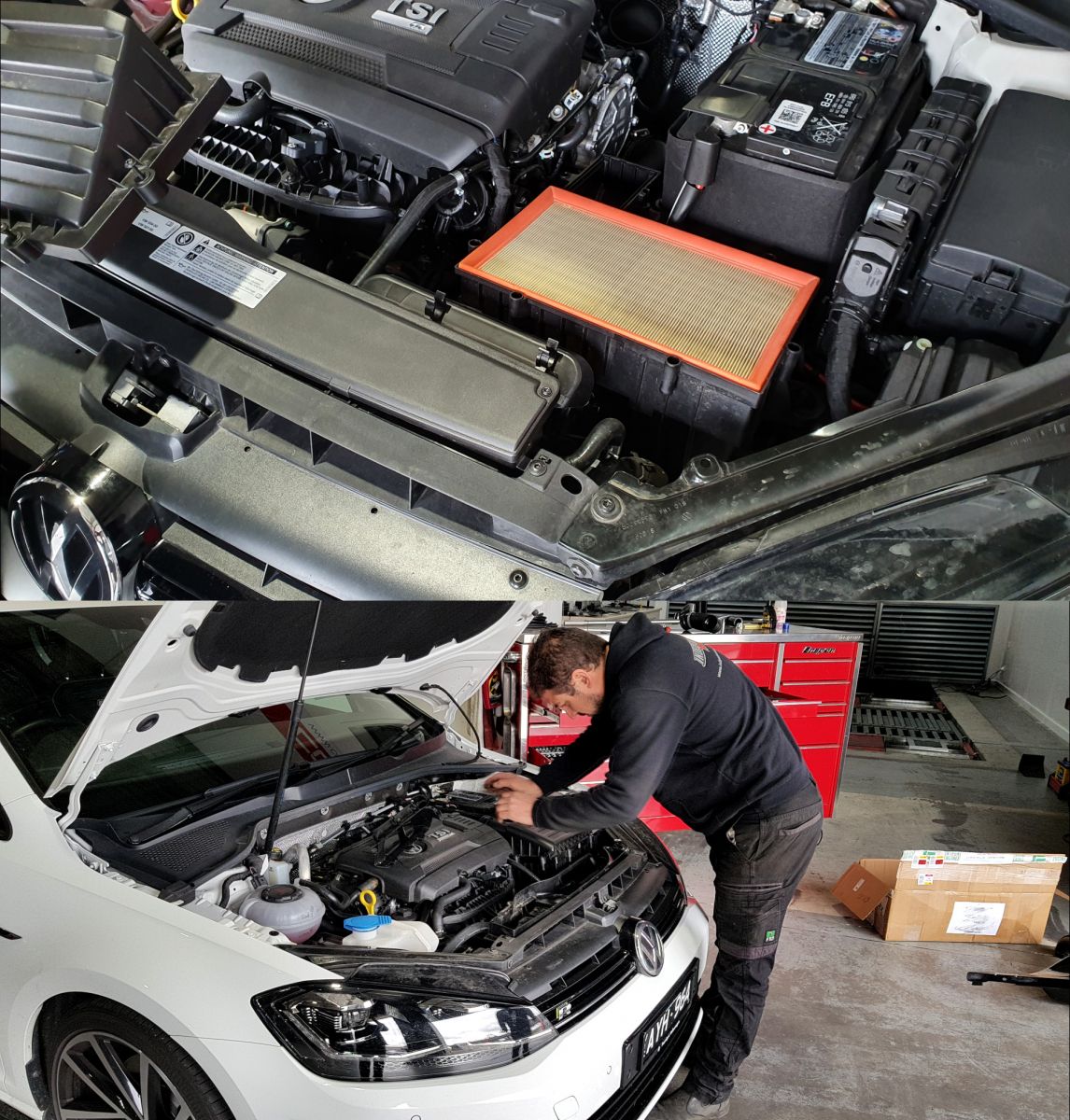 Below is just some of our passes that we made through out the day with different track conditions such as tempreture and grip levels.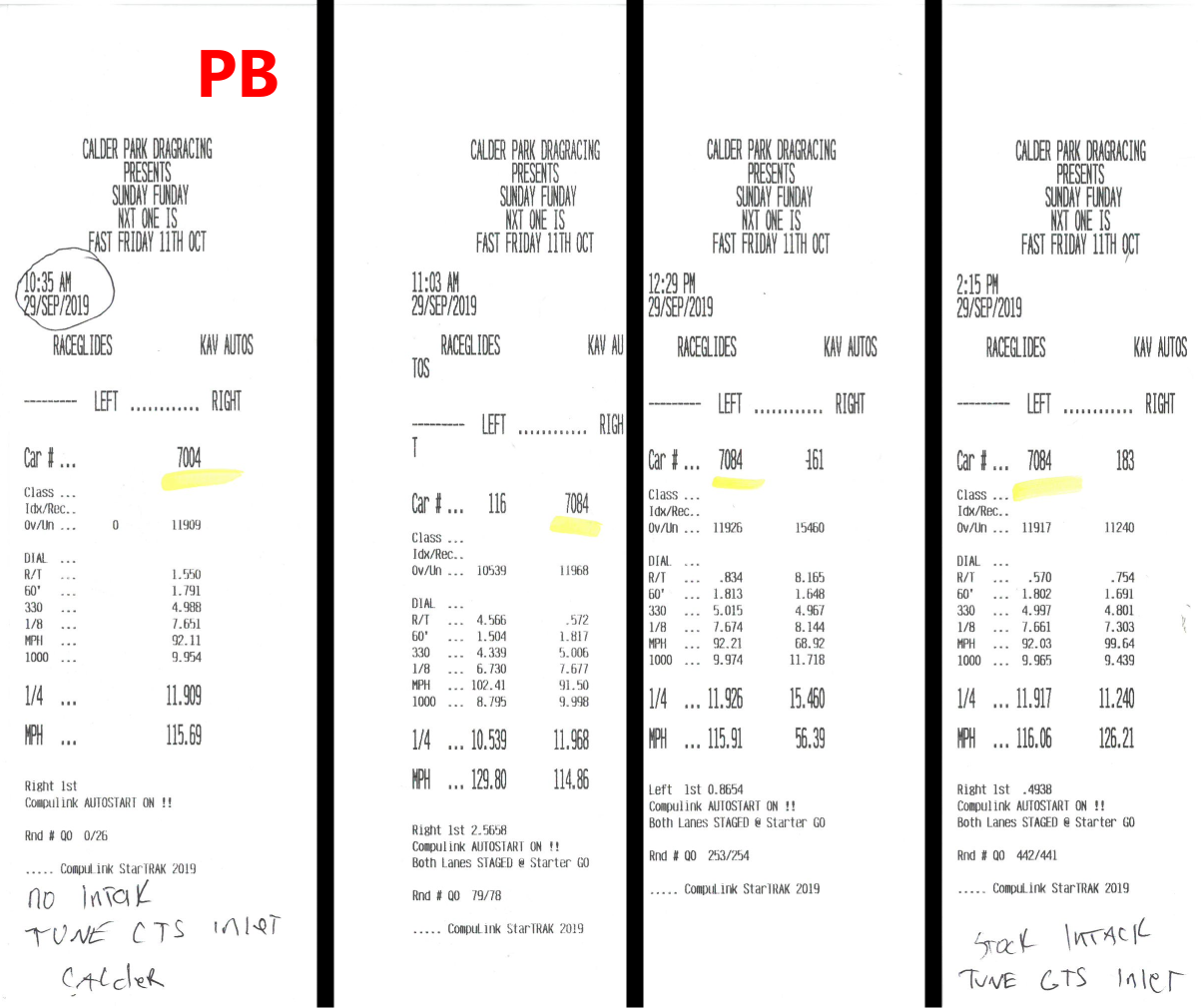 As you can see our PB time was an 11.909 @ 115MPH this was set with the following modifications made;
Stock factory intake and airbox
Stock tyre that the car was delivered with
Pump 98 Fuel
COBB Accessport V3 (ProTune)
CTS Turbo inlet pipe
And all interior trim/seats installed
Below is our PB with the IE Engineering intake and our pass with the stock intake.
Something that we would like to also point out is that our previous PB with the IE Engineering intake was ran with a tail wind which you can say helped with ET, but the pass with the stock intake was ran with a head wind which works against running a PB ET. Based on our findings it is safe to say that if we ran two identical Golfs side by side but one with the IE Engineering intake and one with the stock intake they would run nearly identical times.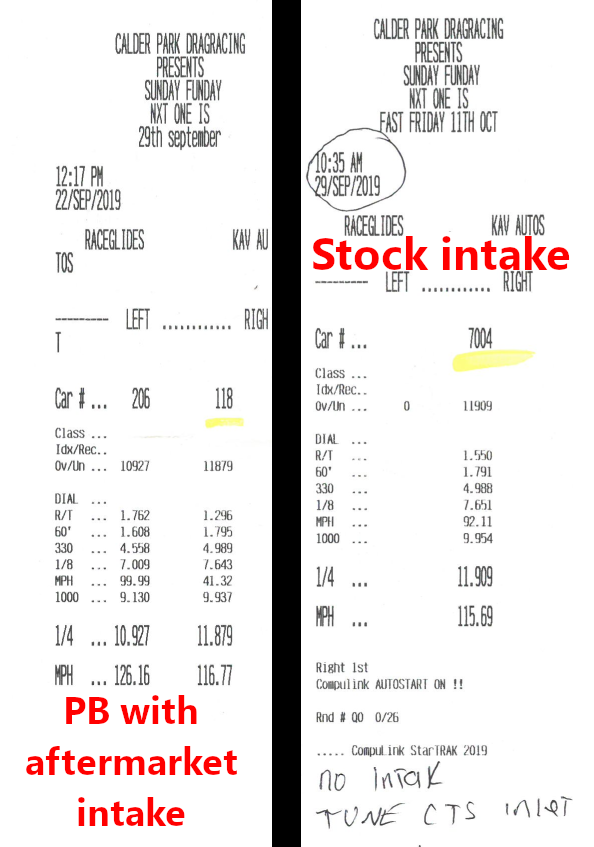 2020 THE YEAR OF CORONA
11/04/2020 UPDATE!
Now having access to the Cobb DSG software upgrade we have found that this has made a nice difference to the way the car drives on the street, however we feel at this power level this is not an essential upgrade but recommended if you don't mind spending the extra money.
As we continue with our upgrades we will come back to DSG tuning in the future updates.
Next stage is to test out the Integrated Engineering Cast Downpipe & High flow 200 cell catalytic converter built from 76mm tubing that replaces the 60mm factory tubing (a good increase in size compared to stock). I was very optimistic as to whether this was going to do anything at all and with all my Google researching this apparently is the go to modification that gives the most increase in power. Well I can tell you for $1,599 I think your money is better spent somewhere else as you can see by the below dyno sheet we picked up an extra 5.2kw & 5.4nm, not exactly good value for money! Luckily all our development has been done on the hub dyno as I am unsure how anybody could even measure this on a roller dyno.
Below is the dyno sheet showing the Stock OEM Down Pipe vs Integrated Engineering Down Pipe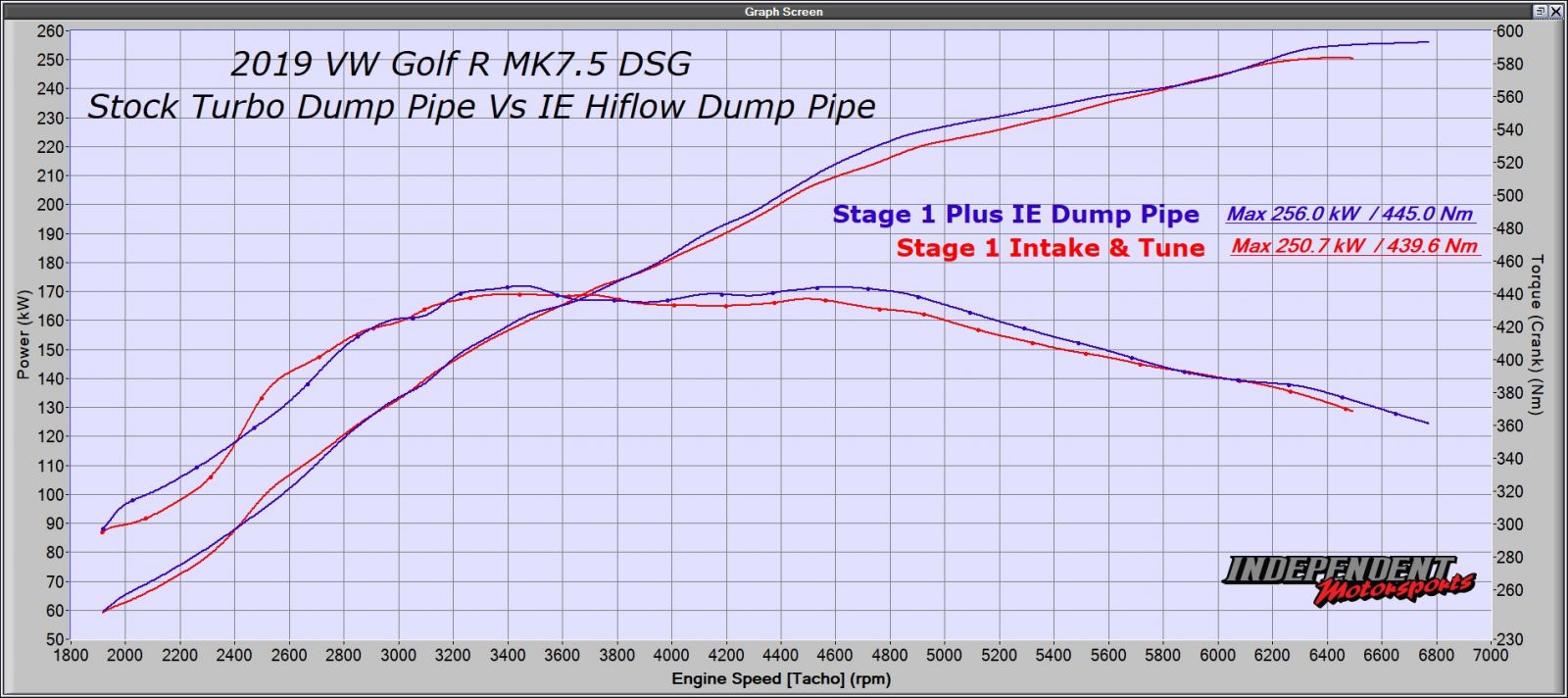 Integrated Engineering Cast Downpipe Below https://performancebyie.com/collections/exhaust-systems/products/ie-downpipe-20t-tsi-mk7-awd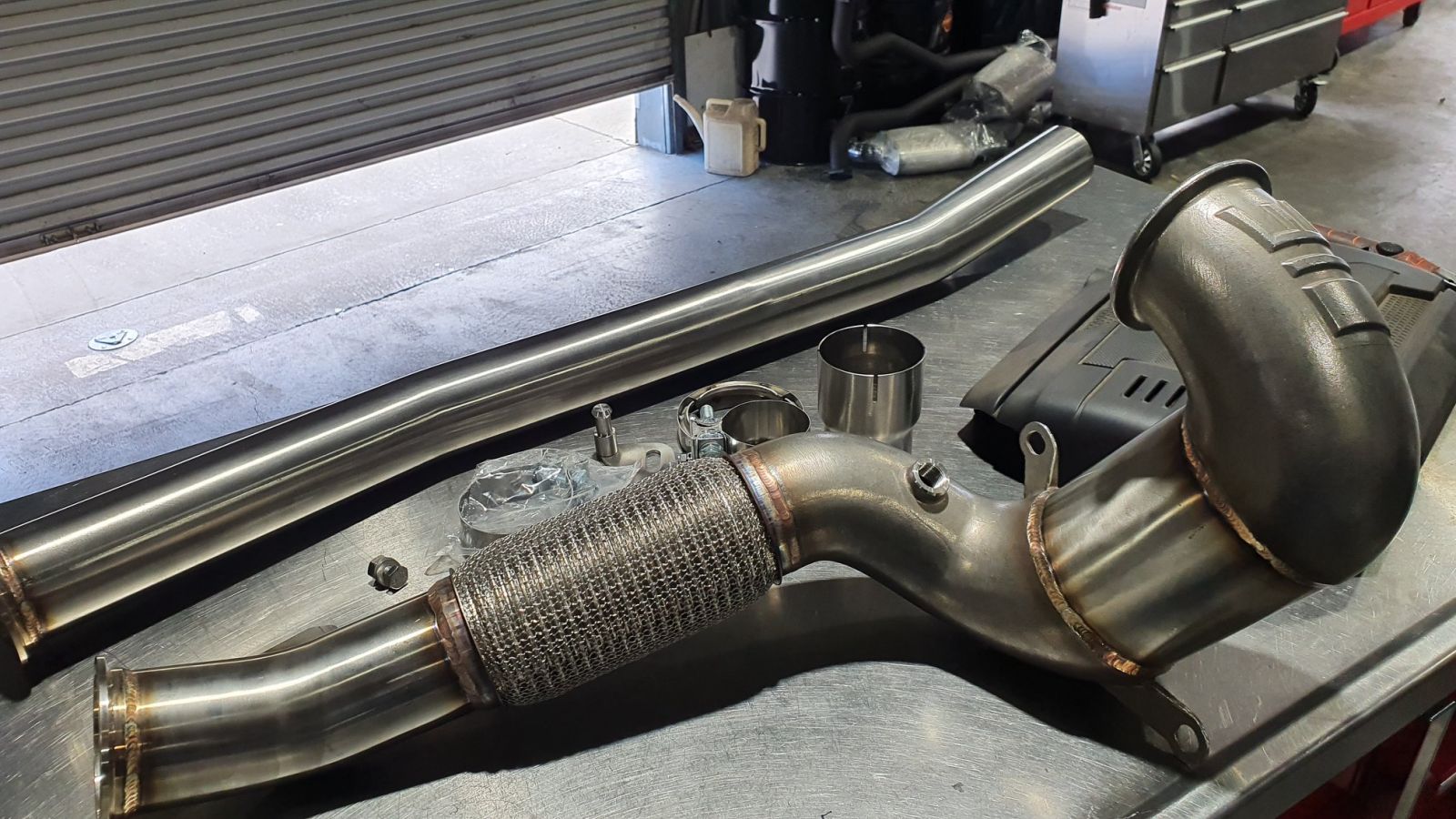 In preparation for our next phase of modifications we thought it would be a good idea to check what the pressure drop was across the factory intercooler core and we were quite surprised to see that there was actually less than 1 PSI of pressure drop giving me no evidence or reasons to even think about changing the intercooler at this stage. We also checked inlet temps which were also surprisingly good and not going any higher than 45 degrees. This was probably one of the most disappointing tests I have conducted as we already have an IE intercooler sitting here to fit on the car. I guess the next stage is to go direct port water methanol injection which will allow us to take advantage of the added octane.
We will be working with Orlando Barrett from www.coolrunningsengineering.com.au to build us a water methanol kit that will be suitable for the car. We have had great success working together and cannot wait for the next stage.
We will have to wait until we upgrade the turbocharger to find out when the factory intercooler needs to be replaced.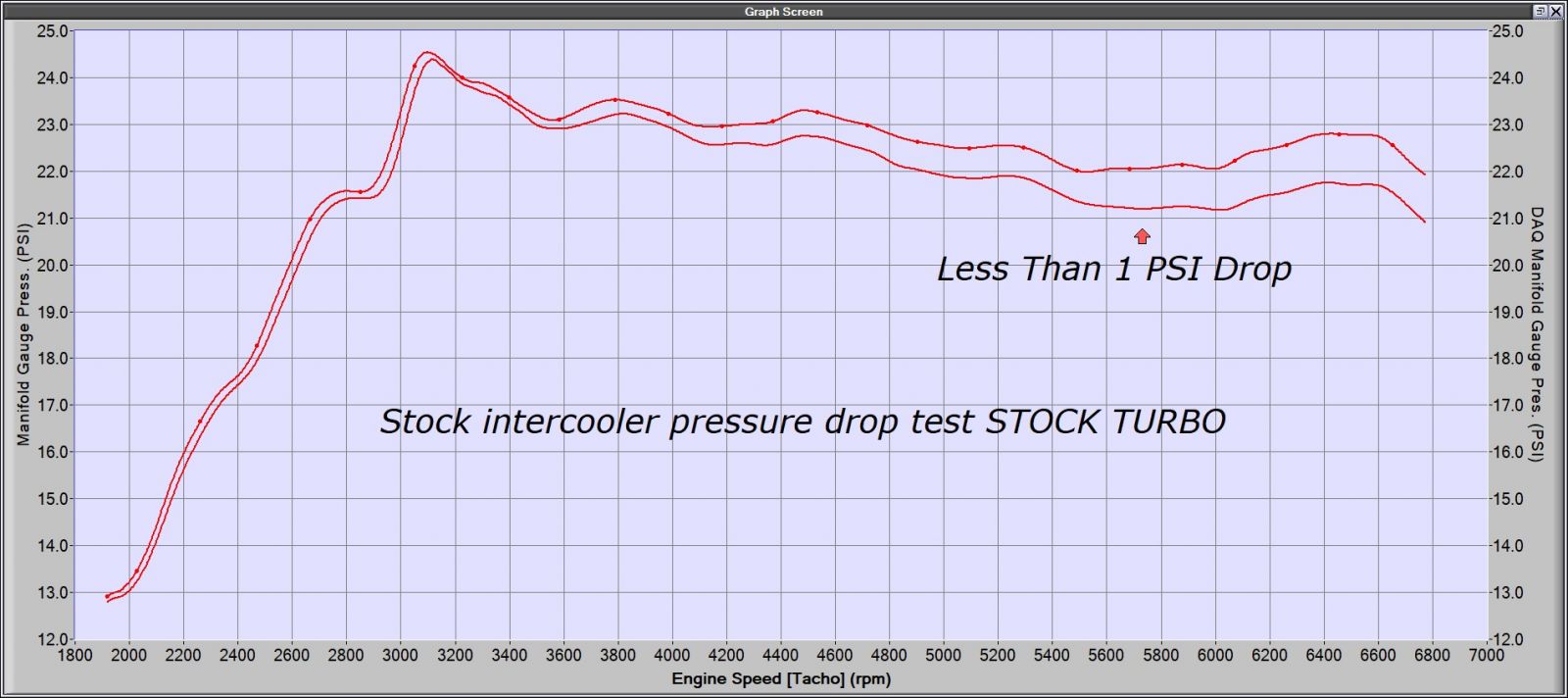 As we draw to the end of our bolt-on modifications parts list, one thing we have learnt is that these cars in factory form are pretty damn good. The best thing you can do is our:
STAGE 1 Package
ECU Remap Using Cobb Accessport V3
CTS Turbo Intake Elbow
Intake Snorkel Modification
​​​ This will give you the best value for money hands down.
At our conclusion we are still currently running the factory turbocharger and everything seems to be so well balanced around this and the factory components. It just works so well without having to spend extra money on bolt-on's that simply aren't needed. Obviously this is going to change dramatically when we move on to a bigger turbocharger in the future development stage. We will keep you posted!
11/04/2020 UPDATE!
Things are slowly returning back to normal now that the restrictions are being lifted after coronavirus and to be honest with you we are starting to get a little bored of the car so we thought now is a good time to try out the CTS resonator delete pipe which is now available on our online store.
Link below
https://www.independentmotorsports.com.au/cts-resonator-delete-kit-vw-mk7-7.5-golf-r-audi-s3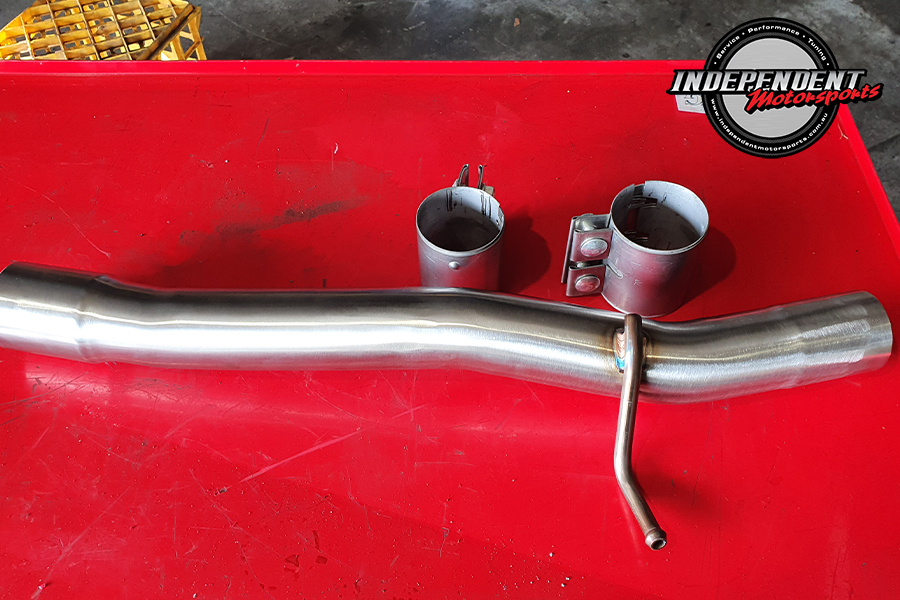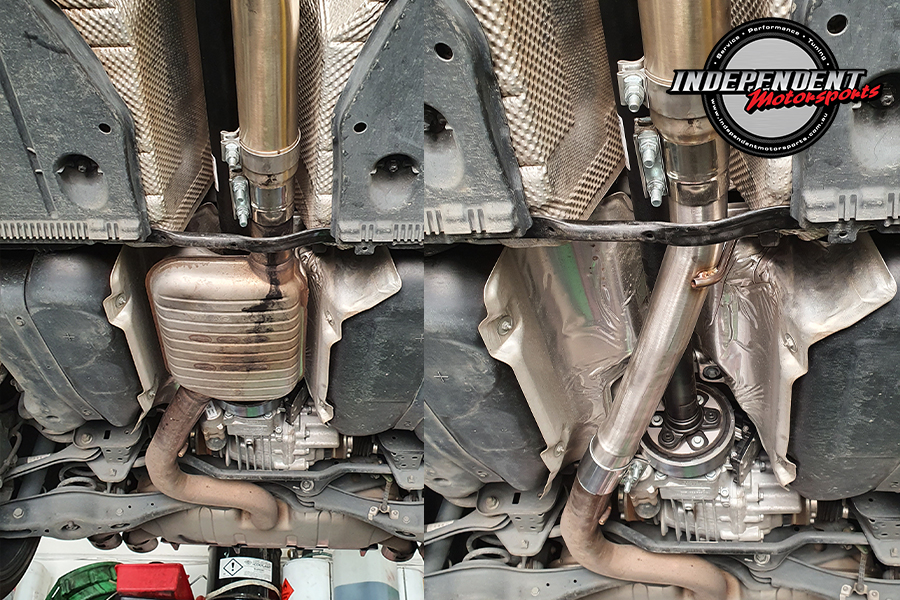 By adding the CTS resonator delete pipe it has certainly made a big difference to the sound of the car giving you a more sporty feel and overall, better driving experience.

A first inspection of the factor resonator there is clearly no restriction nor any power to be made from Simply removing it however there are some gains to be made in another area?

The factory resonator comes in at 4.93KG

The CTS resonator delete pipe comes in at 1.98KG

That's a saving of 2.95KG doesn't sound like much but it's worth every cent.when modifying these cars you tend to get caught up in the power figures, what you don't realise is in the end sometimes you make a little bit of power but you add twice as much weight and that's not good, in the grand scheme of things you want to make power and remove wait at the same time that's how you make cars fast.

Anyhow hopefully in the next few weeks we should be back at the drag strip testing out the DSG tuning.
UPDATE - 01/02/2022
After a long winded process we have finally been able to develope and produce our own High Flow Turbo inlet Pipe and Resonator delete kits!
The Turbo inlet pipe is so easy to fit! we have found that we can have this part fitted and car running in approx 10 minutes!
Our IMS Resonator Delete kit is also so easy to fit, you can really just use basic hand tools to get this part on your car.
Best thing is that it gives you that nice Deep GOLF sound that you always wanted without bring on the engine light!.
http://www.independentmotorsports.com.au/ims-turbo-golf-r-1.8t-2.0t-gen-3-high-flow-turbo-i
http://www.independentmotorsports.com.au/cts-resonator-delete-kit-vw-mk7-7.5-golf-r-audi-s3
UPDATE - 08/03/2022
We are now well and truly into our Stage 2 development. The current parts we are testing are:
ATP500 Stage 1 Turbo Upgrade (500hp rated)
IE Intercooler
We have installed the above parts and have begun our tuning and track testing. We have managed to achieve a respectable 303KW @ the hubs on 98 octane fuel with a maximum boost of 31psi. We took the opportunity to go to the drags and do some base line testing on Sunday. Unfortunately, we were pushed for time so we didn't bother playing around with tyre pressures or the tune as we had customers cars also racing that we had to attend to. But nonetheless we took the opportunity to get a base line figure.
The result was 11.598 @ 119.37 MPH with a slow 1.935 60ft. We will do some more fine tuning of the engine & DSG calibration to improve the 60ft times. Our previous best was a 1.795 60ft so we are confident we will get the times down once again.
Once we have validated all the parts and achieve the best times, we plan on fitting the direct port water meth injection kit which should see some massive improvements to the power and ET times. Stay tuned and thanks for reading our latest blog update.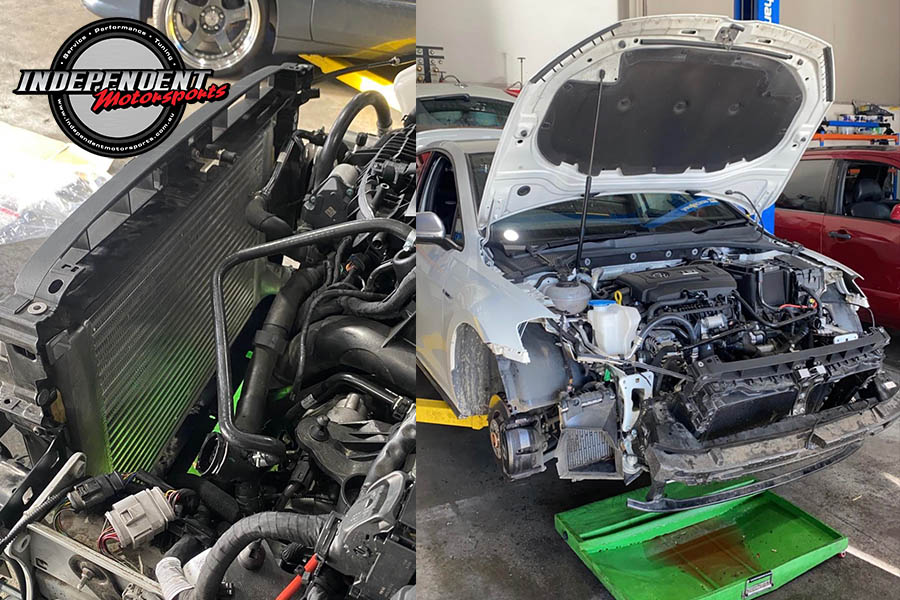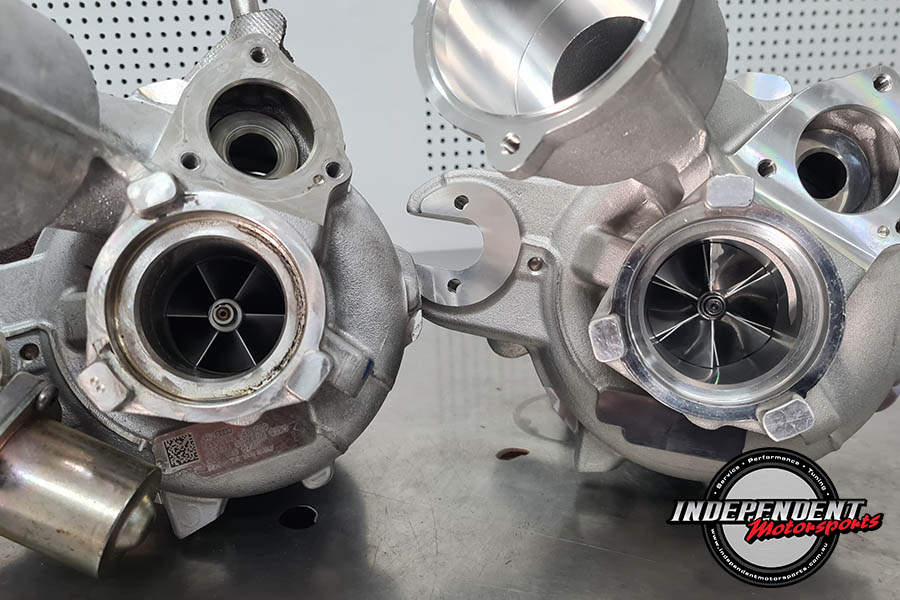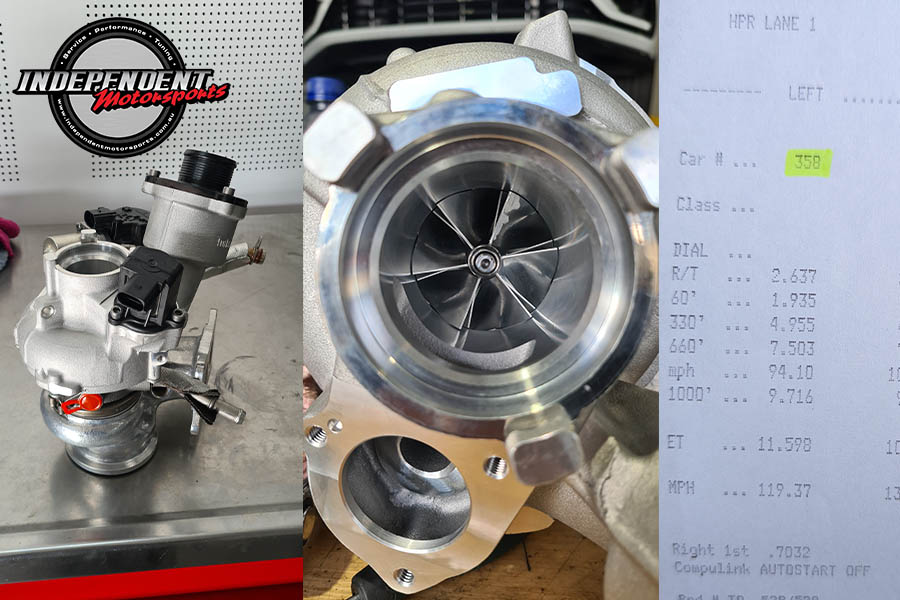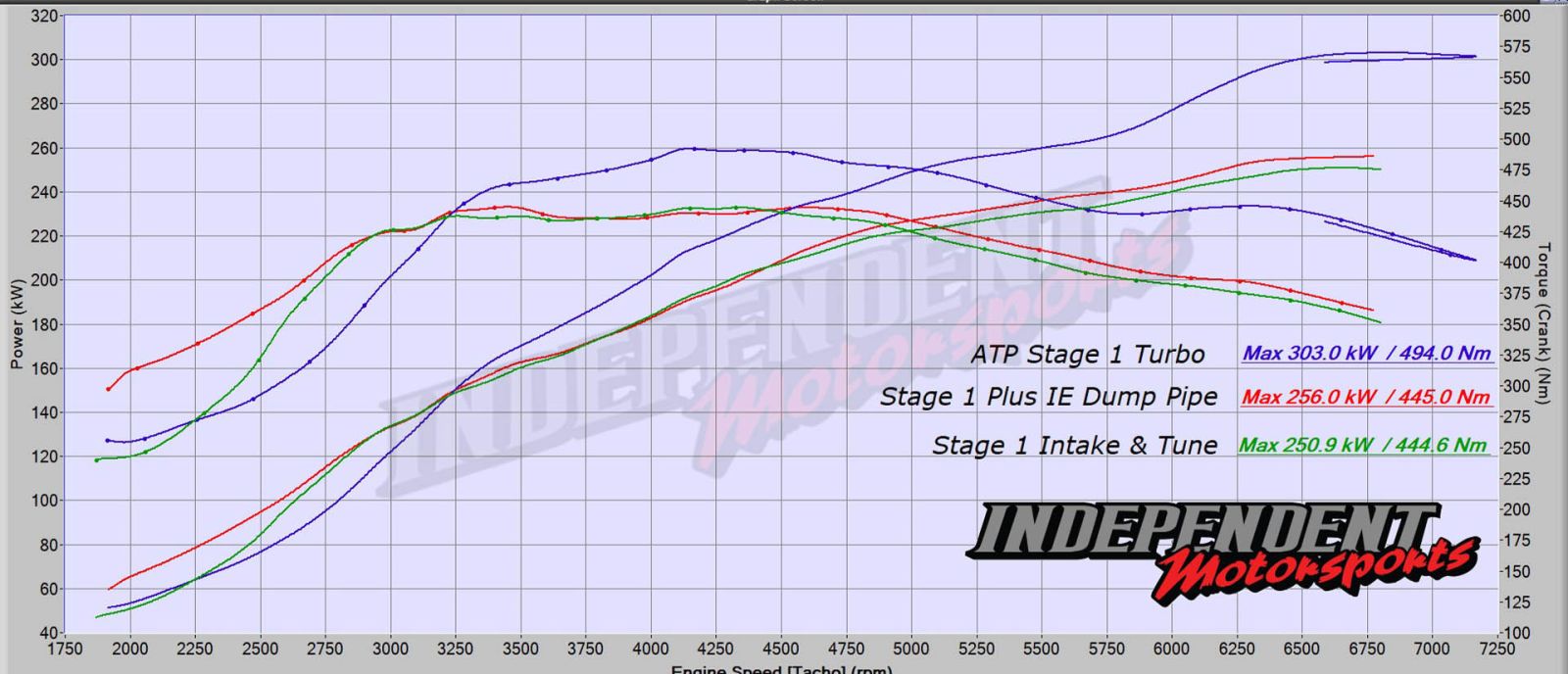 UPDATE - 04/04/2022
We headed back to heathcote dragway to do a few sneaky runs while we were there with some customers cars. We lowered the tire pressure to 23 psi allowing us to run at PB 11.49 @ 121MPH. The car still has a crap 60ft 1.805 and with some new tires we should see some great improvements hopefully a 11.2 next time out If the 60 ft improves.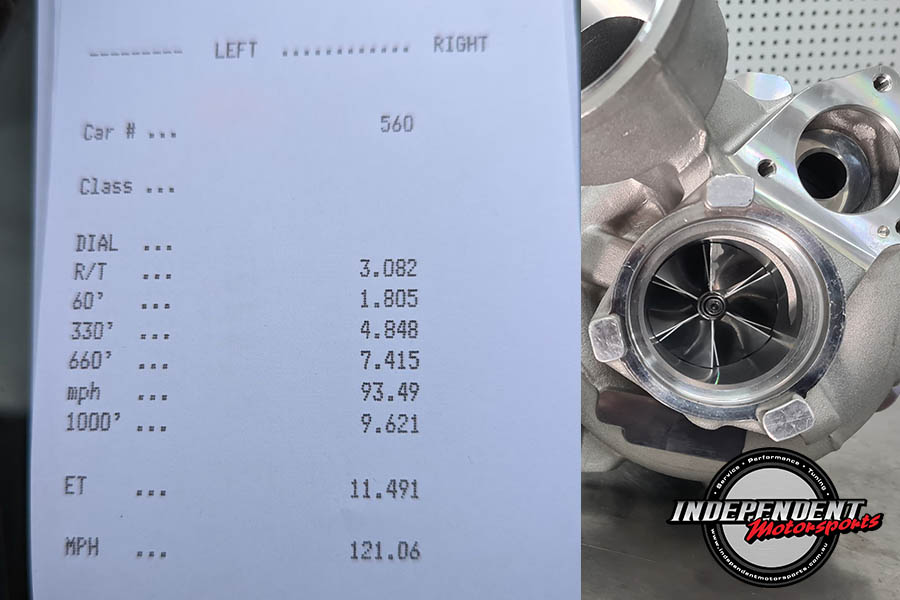 ---
---
Comments (2)
Great info!

By:

Mitch

on 30 October 2021

Very insightful posts. So glad I didn't waste money on a bunch of near useless upgrades!





Independent Motorsports Response
Thank you, we have done our best to give as much information as possible to prevent people from wasting their money on pointless upgrades, Unfortunately the euroscene is full of money hungry parts sellers who continue to sell people products that they just don't need. Thanks for taking the time and reading our blog we will be updating this soon. Regards Stathi
---
Nice work

Really interesting read. Enjoyed it Just a couple of observations. You have posted that you guys only netted a 5-6 kW gain from a downpipe. Is that figure without retuning to stage 2? In regards to the stock intercooler not experiencing any heatsoak, was the car switched off between runs? I find my car on a stage 1 tune doesn't get below over 20 degrees over ambient (at 16 deg C) air intake temps on stock cooler in normal commuting. I feel like an aftermarket cooler will help with this..





Independent Motorsports Response
Yes when we fitted the down pipe we spent a lot of time on the Dyno and this was the result, hence the reason why we don't believe it's a worthy upgrade with the stock turbo, regarding the intercooler, the factory intercooler is more than capable with the stock turbocharger we have not experienced any heat soak and sometimes people are looking at the wrong data and get we'll frizzled,no matter what you put on there it's going to heat soak when you turn it off especially If you have no air flow going across it, the real trick is having something that will cool down quick once you get moving and in my honest opinion the factory intercooler is thin core tube and fin with plastics light weight tanks which responds extremely well with minimal airflow. We have installed a larger one now with a high flowed turbo and I am still sceptic as to weather we need it. You simply cannot beat a Good ECU remap with the factory turbo charger best value for money everything else is small gaines for lots of cash.
---
Leave a comment