Haltech Engine Management System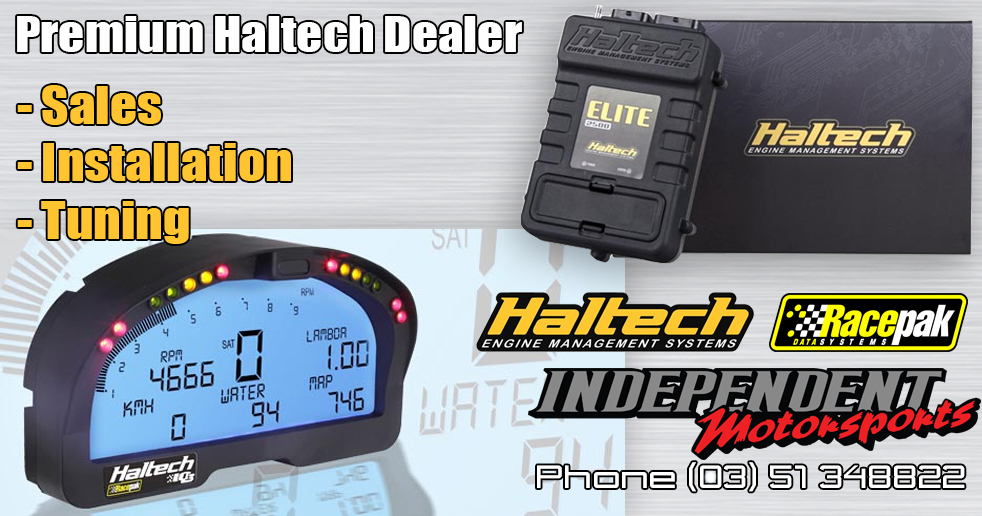 An engine computer that is fully programmable to suit your individual engine setup!
Independent Motorsports is a Premium Haltech Dealer. We can offer installs, advice and retail options.
Haltech Engine Management Systems are being used for such applications as:
- Control system for custom conversion from carburetion to injection
- Control of fuel injection/ignition on modified engines
- Race and rally applications of all descriptions
- Used in kits by kit manufacturers
- Original equipment in cars and motor cycles
- Design and research and development
- For use in cars, motor cycles, off-road vehicles, boats, jet skis, outboards, snowmobiles, karts, motor homes, aircraft
Haltech engine management systems are designed to be as universal as possible with the ability to control single cylinder motor cycles to V8 racing cars and most engines in between. It can control throttle body, multi-point or staged injection, distributor or direct ignition, naturally aspirated, turbo or supercharged engines. Name the application and in most cases Haltech can control it.
Haltech has been acknowledged by magazines such as the US "Hot Rod" and "Turbo" magazines as being the first in the world to develop engine management systems programmable in real time (with the engine running) by personal computers. Haltech currently holds several patents on the system.
Haltech ECU or the Haltech Engine Management System is a computer-designed system to control and manage the engine and ensure that the engine is performing perfectly. The work of a Haltech ECU is mainly to control the ignition and fuel injection system like a carburetor used to do in the old-school mechanical systems. The main work of a Haltech engine management system is to take control of the fuel injectors and ignition coils and deliver the amount of fuel whenever needed by the engine. The basic sensors that are needed to run an engine are air temperature, manifold pressure, engine speed, coolant temperature, and throttle position. A Haltech ECU looks after everything and ensures that every sensor is delivering the most optimum results.
Since Haltech opened its doors in 1986, it has been at the leading edge of engine management. Haltech's ECUs are currently sold in more than 50 countries around the globe. Thousands of record-setting vehicles are powered by their ECUs. We have Haltech branches in the UK, Europe, New Zealand, and the United States, so we can process, deliver and support our products globally.
Real-time engine management calibration was first developed by this company in the world. Many popular car cultures show like Discovery Channel's Street Outlaws and Mighty Car Mods feature Haltech products and Haltech sponsors a variety of racing and motorsport events such as NMCA/NMRA, SEMA, PRI, World Cup Finals, Drag Challenge, World Time Attack Challenge, and Summernats. Known for its cutting-edge technology and customer support, Haltech is a global leader in its field.
At Independent Motorsports, we deal in genuine Haltech ECUs. Our mechanics are professionals and well-trained and equipped to deal with Haltech ECU. If your current engine management system is not working properly, or if you need a replacement, feel free to contact us. We will deliver the most affordable price for Haltech ECU and make sure that you are satisfied with our services.