Haltech Engine Management System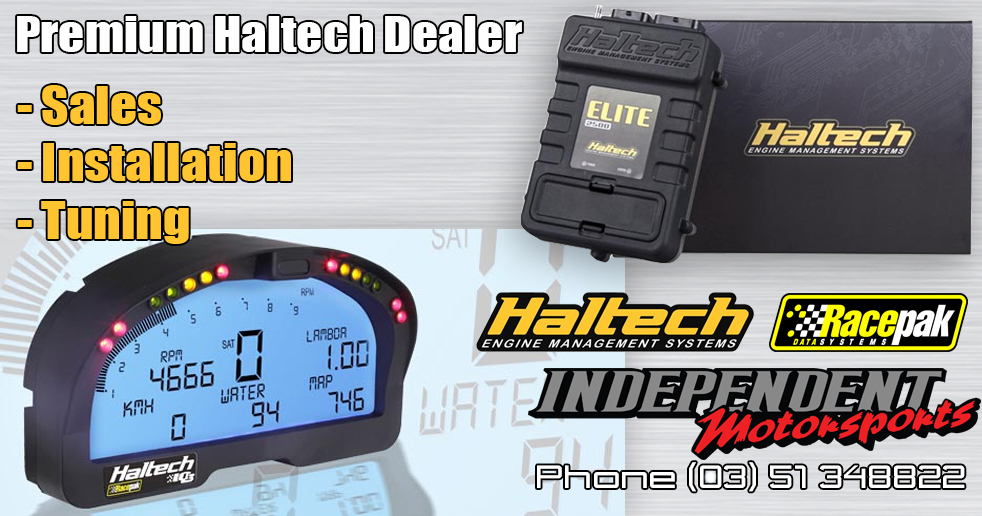 An engine computer that is fully programmable to suit your individual engine setup!
Independent Motorsports is a Premium Haltech Dealer. We can offer installs, advice and retail options.
Haltech Engine Management Systems are being used for such applications as:
- Control system for custom conversion from carburetion to injection
- Control of fuel injection/ignition on modified engines
- Race and rally applications of all descriptions
- Used in kits by kit manufacturers
- Original equipment in cars and motor cycles
- Design and research and development
- For use in cars, motor cycles, off-road vehicles, boats, jet skis, outboards, snowmobiles, karts, motor homes, aircraft
Haltech engine management systems are designed to be as universal as possible with the ability to control single cylinder motor cycles to V8 racing cars and most engines in between. It can control throttle body, multi-point or staged injection, distributor or direct ignition, naturally aspirated, turbo or supercharged engines. Name the application and in most cases Haltech can control it.
Haltech has been acknowledged by magazines such as the US "Hot Rod" and "Turbo" magazines as being the first in the world to develop engine management systems programmable in real time (with the engine running) by personal computers. Haltech currently holds several patents on the system.
---