Warniz BA Turbo Build Ute IMS Morwell Independent Motorsports
Author: Stathi Kavadias Date Posted:13 April 2020
One of our ongoing projects has been building Adam's BA Falcon ute for street and strip.
Originally known for running a supercharged BOSS 260, getting into the low 9s for the 1/4 mile, Adam has sinced changed to a BARRA 6 and he is going all-out.
The ultimate end plan in the future for Adam's ute is to send it over to the US and compete in the drag challenge over there (we will even be taking the Territory). Obviously this is a massive task and we will need to test the car out on Aussie soil first.
We will keep adding progress pics and updates each month, so you will definitely want to keep an eye out on this build!
30/03/2018
So far we've done the dry sump, Garret GTX4718 turbo, Plazmaman intercooler with a twin-injector Plazmaman intake manifold. We've already made up a brake booster delete and have also been working on the pipework for both hot and cold sides. We have pushed the engine back 40mm and down 20mm. We have also fabricated all the new engine and trans mounts (unfortunately we haven't had a chance to take a photo of this, but will do it next month).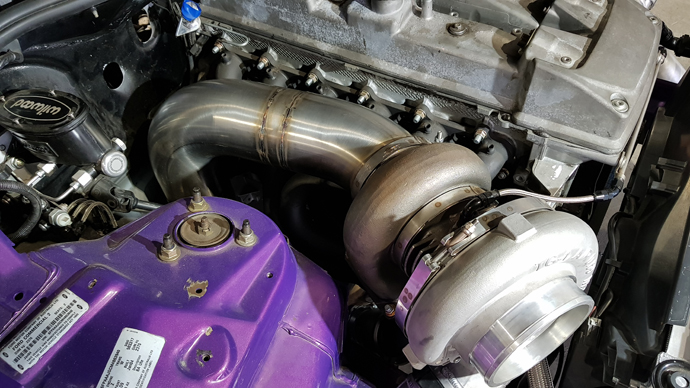 Garrett GTX4718 sitting on a 6 Boost Pro Mod Manifold & IMS Built 5'' Stainless Dump Pipe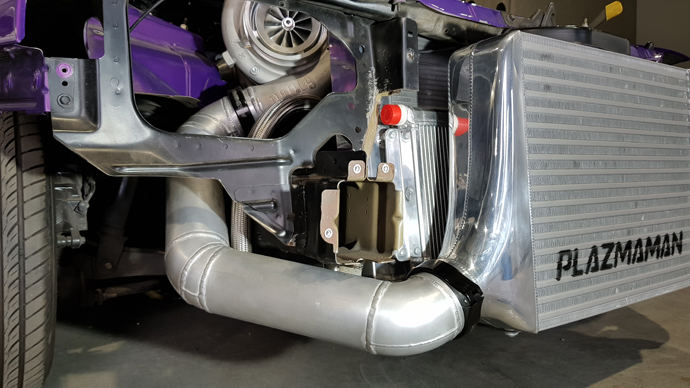 3.5'' Hot Side Piping all joined by Plazmaman Clamps & Custom PWR Oil Cooler sitting behind the intercooler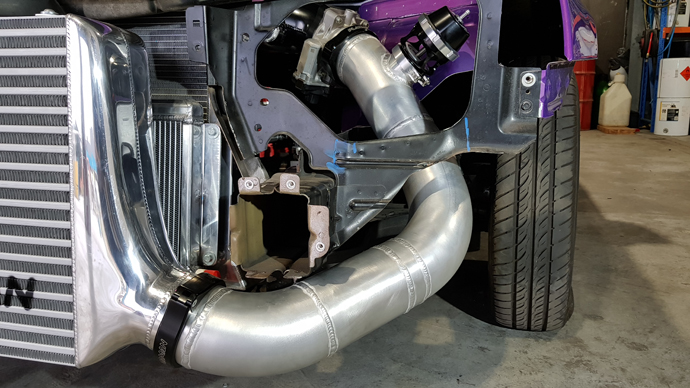 4'' Cold Side Intercooler Pipe joined by Plazmaman Clamps. We also welded a Plazmaman Clamp to the LS 90mm throttle. We will be using a Haltech Elite to control the Turbosmart Race Port BOV for some extra boost control. This will allow us to reduce the boost but without losing any turbine speed. Hopefully we should be able to get the boost low enough without the need for CO2 gas. This is old technology that was quite popular in the F1 days.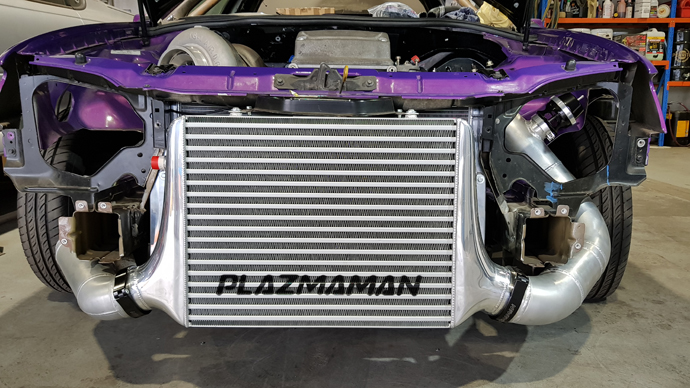 2000+HP Plazmaman Intercooler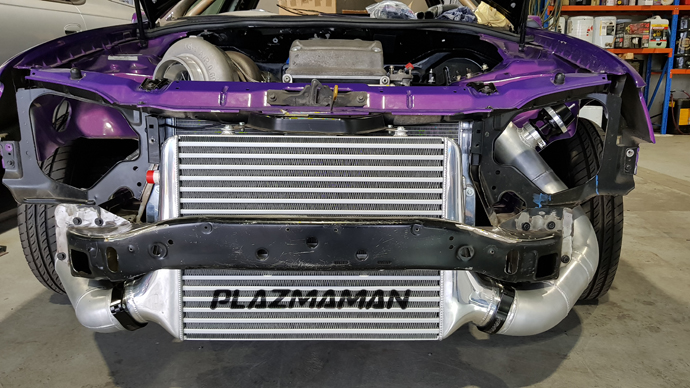 We have taken the extra step and modified the bumper support bar so we can remove it for future maintenance.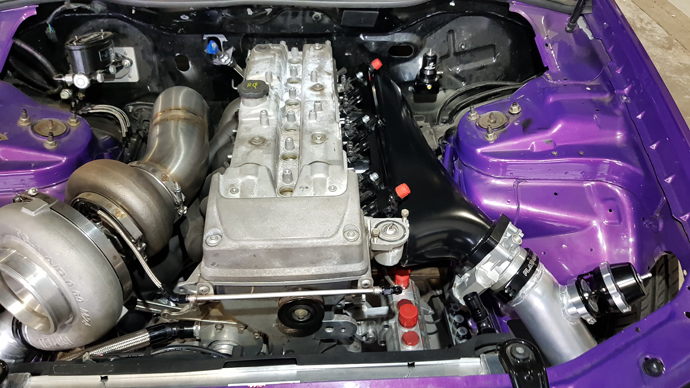 Plazmaman Twin Injector Billet Inlet Manifold with 12 x 1600cc Injector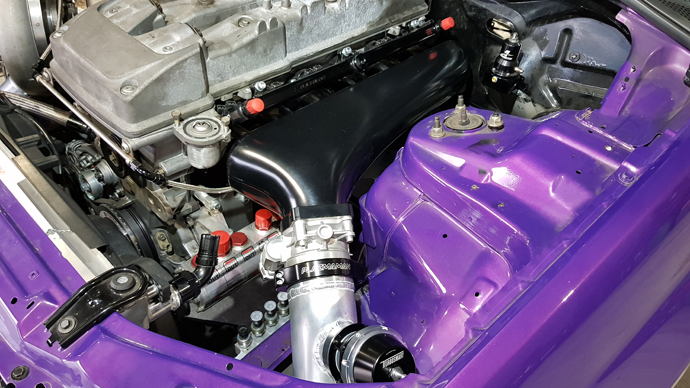 We are curently in the procces of fabricating a billet thermostat housing so we can use a -16 braided hose back to the radiator.
Below you can see the custom water pump delete that we had built with an automatic belt tensioner (from an VY LS1 AC). We will be using a Davis Craig electric water pump controlled by the Haltech ECU.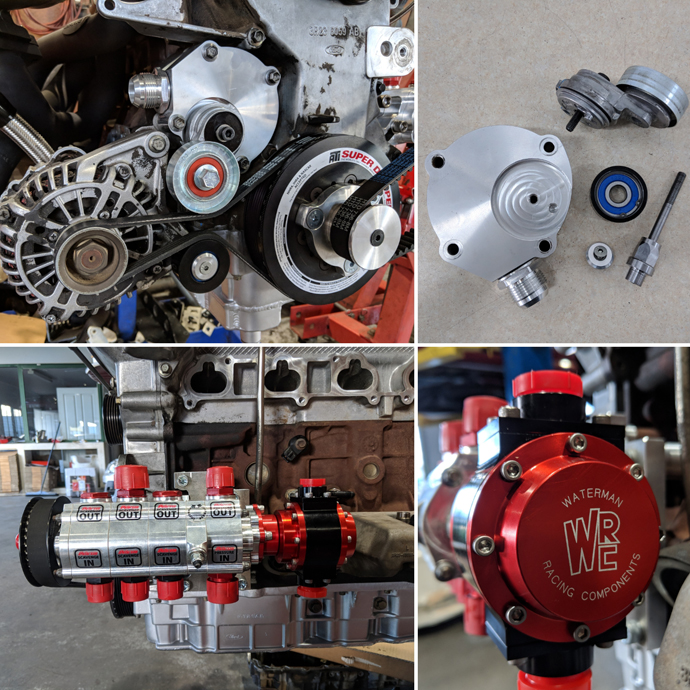 Daily dry sump pump & custom Atomic sump (thanks to Brad from Atomic Performance) & a Waterman big bertha hex drive mechanical fuel pump (thanks to Stix from Quickbitz for hooking us up with this).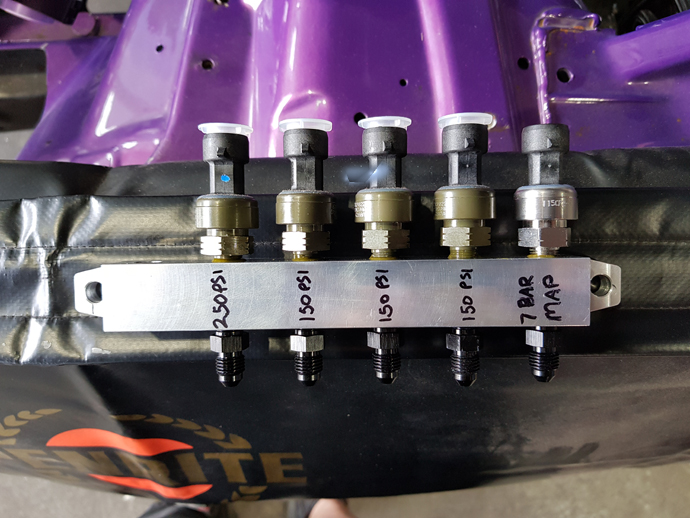 Billet Remote Sensor Block we built to hold the Map Sensor, Coolant Pressure, Fuel Pressure, Oil Pressure, Trans Pressure Sensors.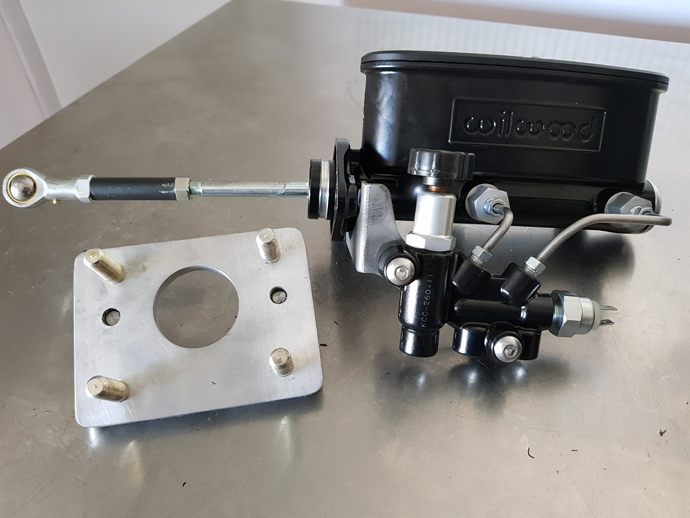 Wilwood Brake Booster Delete we built. As you can see below we also changed the pedal ratio to maximise the brake pedal fill without the pedal being to heavy or hard.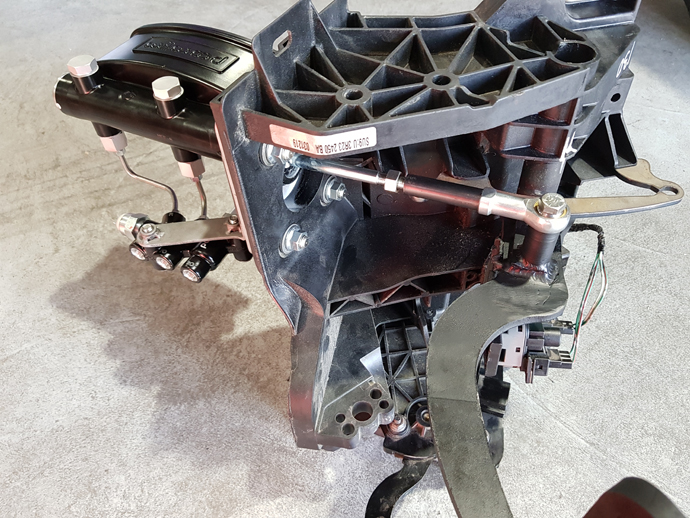 22/02/2019
Alot of progress has been made on Adams mega build since the last update, from Wilwood brakes and rear diff cratle to a dry sump and direct port nitrous system.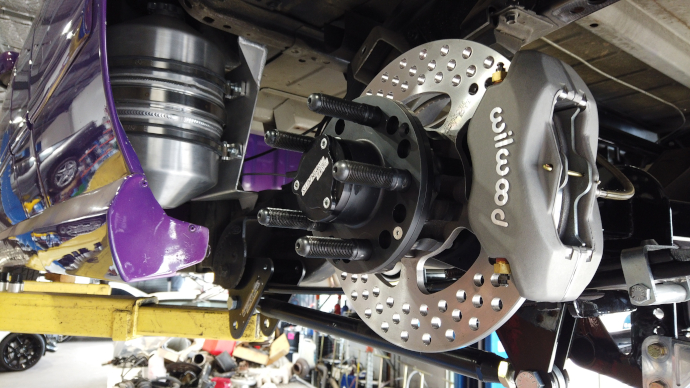 these are the Wilwood brakes that are included in the Gazzard Brothers 9" leaf spring kit.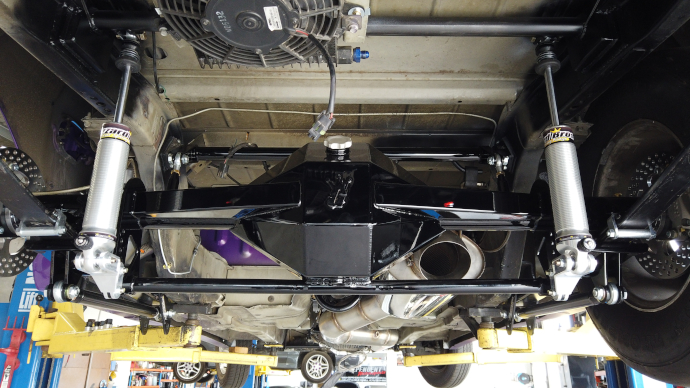 Above is an overview of the Gazzard Brothers 9" kit.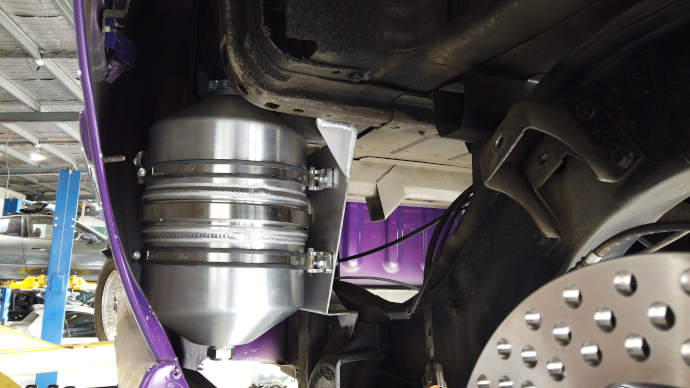 We have mounted the 3 Gallon Peterson fuel tank where the factory fuel cap is for easy access.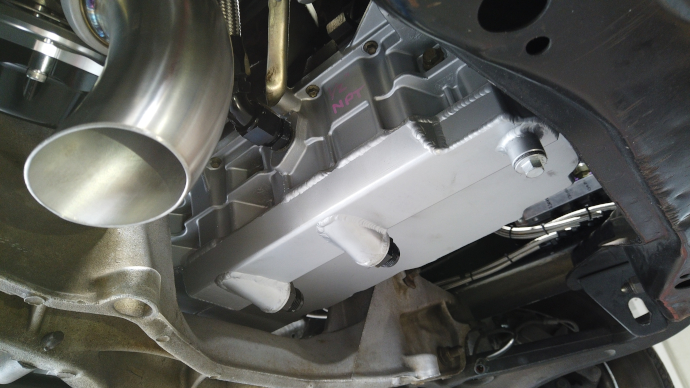 This is what the Dry Sump pan looks like mounted and installed.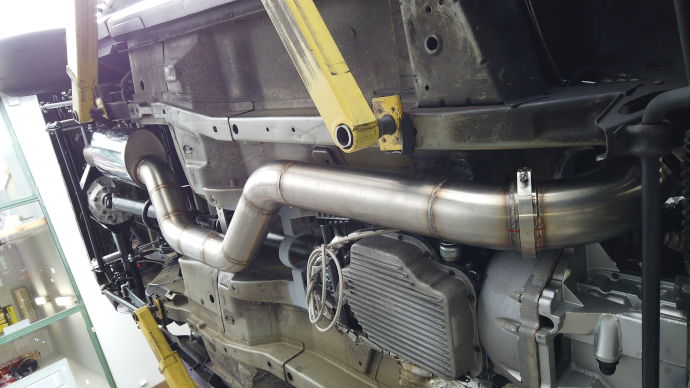 Here is the full shot of the custom in-house IMS 5" exhaust system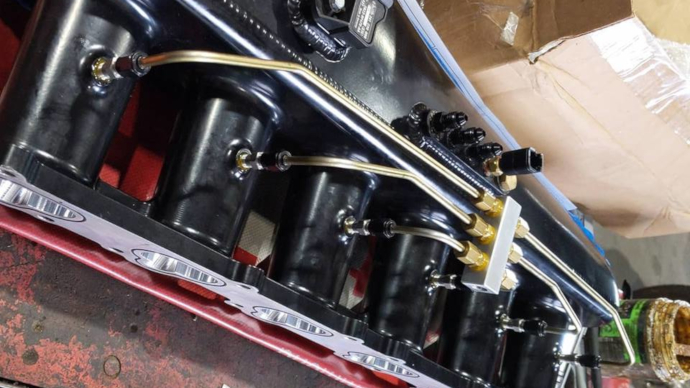 This is the setup for the Direct port Nitrous which has ben mounted to the twin injector Plazmaman manifold.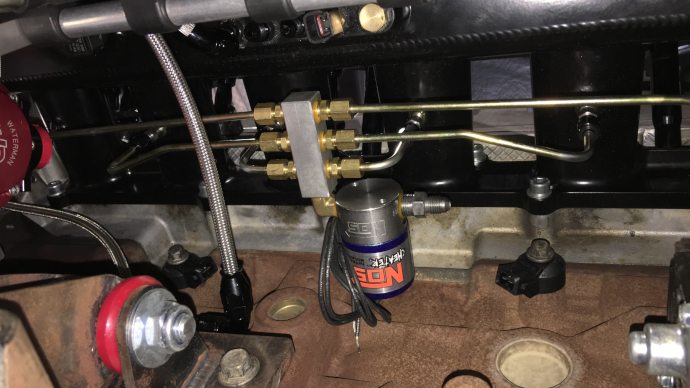 Here is how the Direct port nitrous system sit all plumed up and ready to go.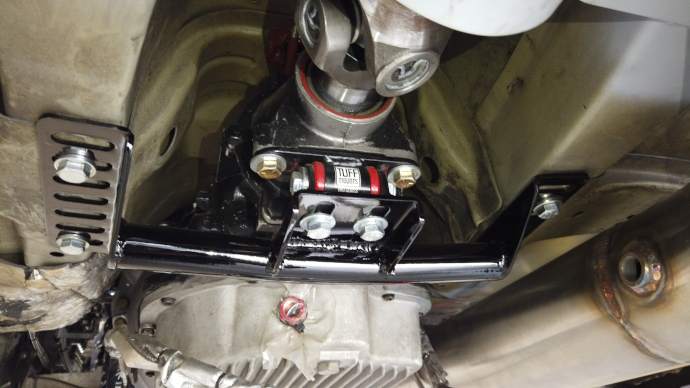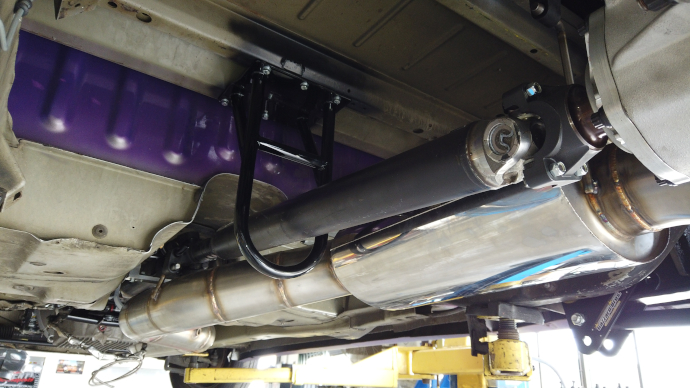 Custom 2 piece Tailsharft by G J Drivelines.