Toyota Hilux / Prado D4D 3Ltr & 2.8Ltr



Do you own a Hilux or Prado D4D and have been underwhelmed by the lack of performance for such a heavy vehicle. At IMS, we have developed a tune which will give you a massive 68% gain (at a very usable 2000rpm) and peak power/torque increase of 30kw and 150nm! These figures are quoted at the wheels on our Dyno Dynamics Dynomometer. In addition, an improvement of 3 l/100 (highway) and 2 l/100 (town) had been reported by our very happy customers.
To put things into perspective, that is more power and torque than most (untuned) V8 turbo diesel 79 series Land Cruisers.
We do not use plug in chips which are a "one size fits all" instead, we are able to read the factory ECU file and make changes to the relevant tables such as boost, injection timing, injection pulsewidth and torque limits and what this means for you is that we are able to safely calibrate a tune that will not only make maximum power and torque but with all of the advantages of factory safety limits.
Make: Toyota
Model: 2016 D4D Hilux (manual) 2.8Ltr
Peak Power – Before: 87.5 RWK After: 105RWK
Peak Torque – Before: 280NM After:340NM
Bolt-on Mods: Turbo-back exhaust
Tuning Method: ECU Re-program
Tune Price: $1200 Incl GST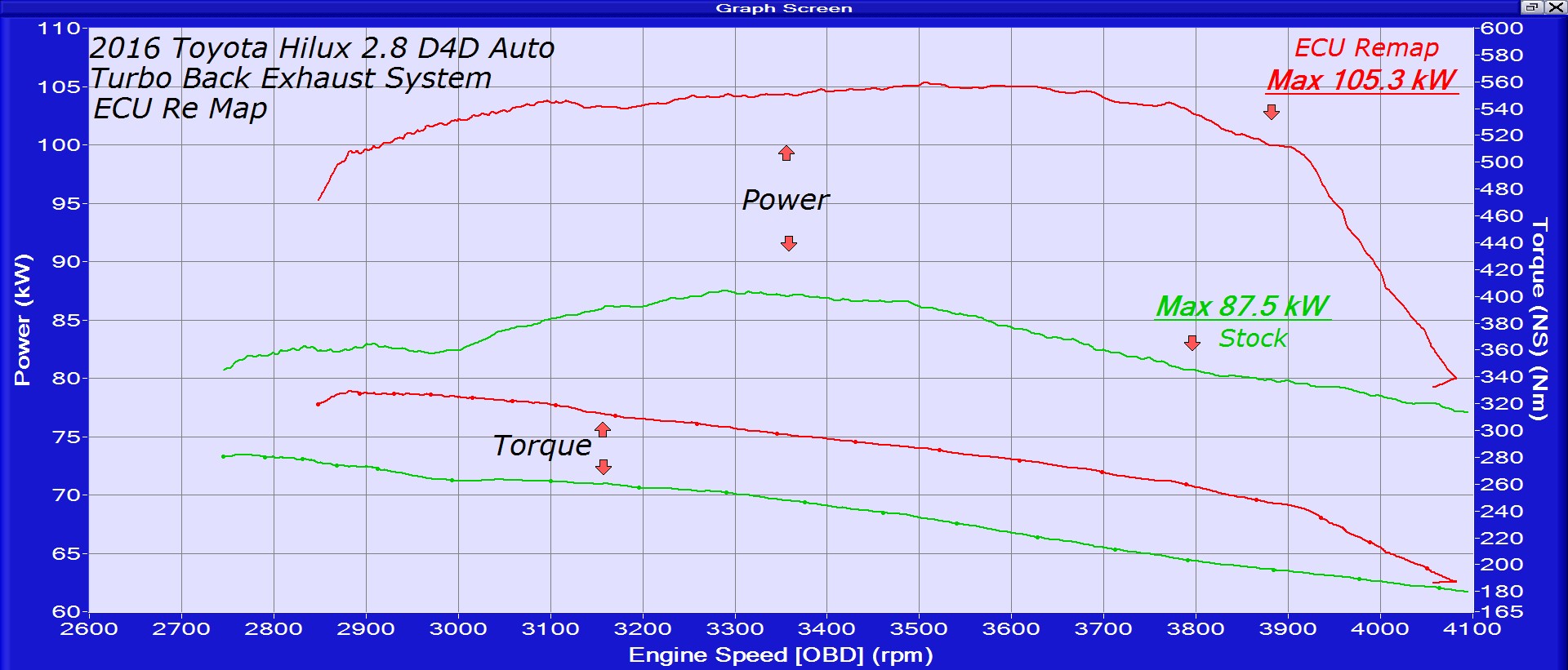 Make:
Toyota
Model:

2009 D4D Hilux (manual) 3Ltr
Peak Power –

Before:

82.7 RWK

After:

112.2RWK
Peak Torque –

Before:

250NM

After:398

NM
53% Power & Torque Gain @ 1800Rpm
68% Power & Torque Gain @ 2000Rpm
53% Power & Torque Gain @ 2200Rpm
Tuning Method:

ECU Re-program
Tune Price:

$1200 Incl GST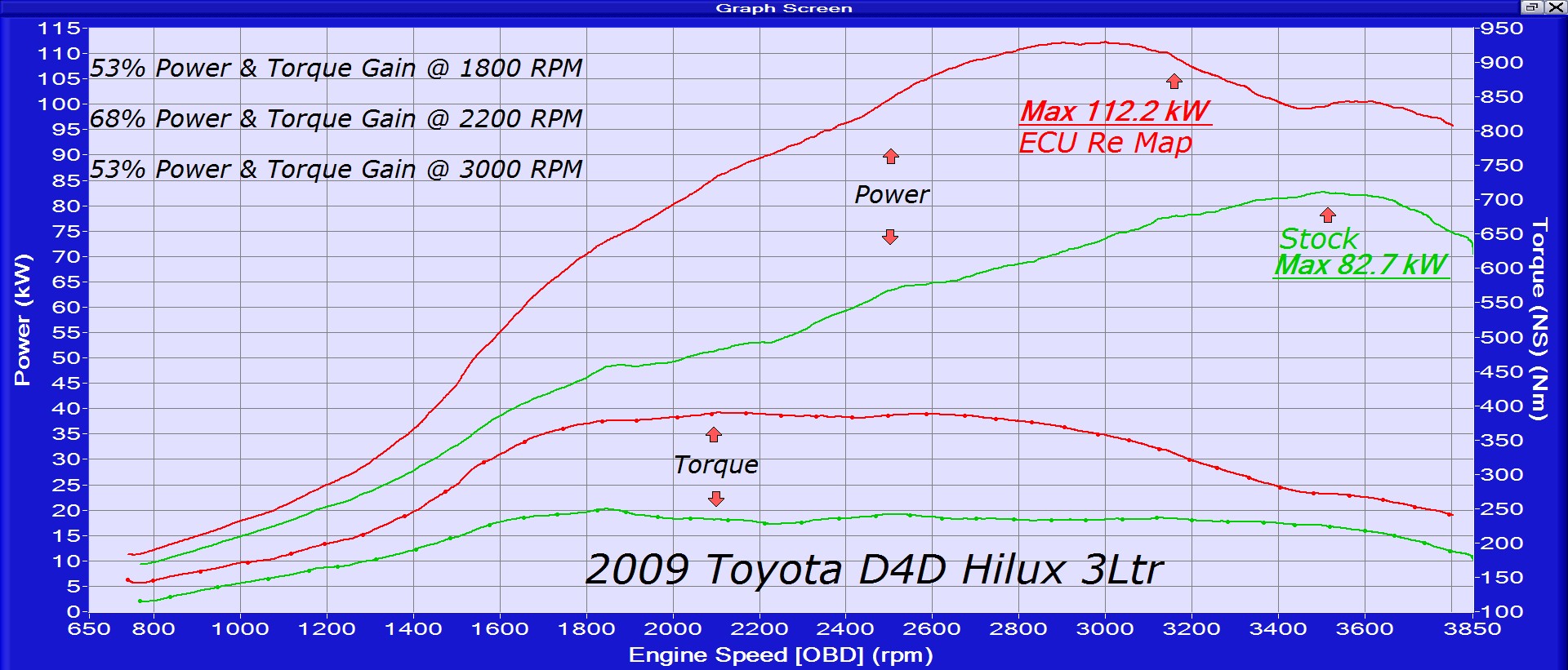 Here is an awesome comparison of a stock 79 series V8 Landcruiser vs a stock D4D Hilux 3lt, with the exception of an ecu tune. As per dyno graph the 79 series is making more power and torque up to 1500rpm. But what you don't expect is for the little 3lt Hilux to take over from there after its been tuned. So if you have a Hilux and are lacking the towing power and are wishing you had bought a 79 series, then this is the upgrade for you. You can finally overtake a 79 series towing a trailer whilst driving up a hill! However, if you do have a 79 series then an ecu tune will definitely sort you out as well!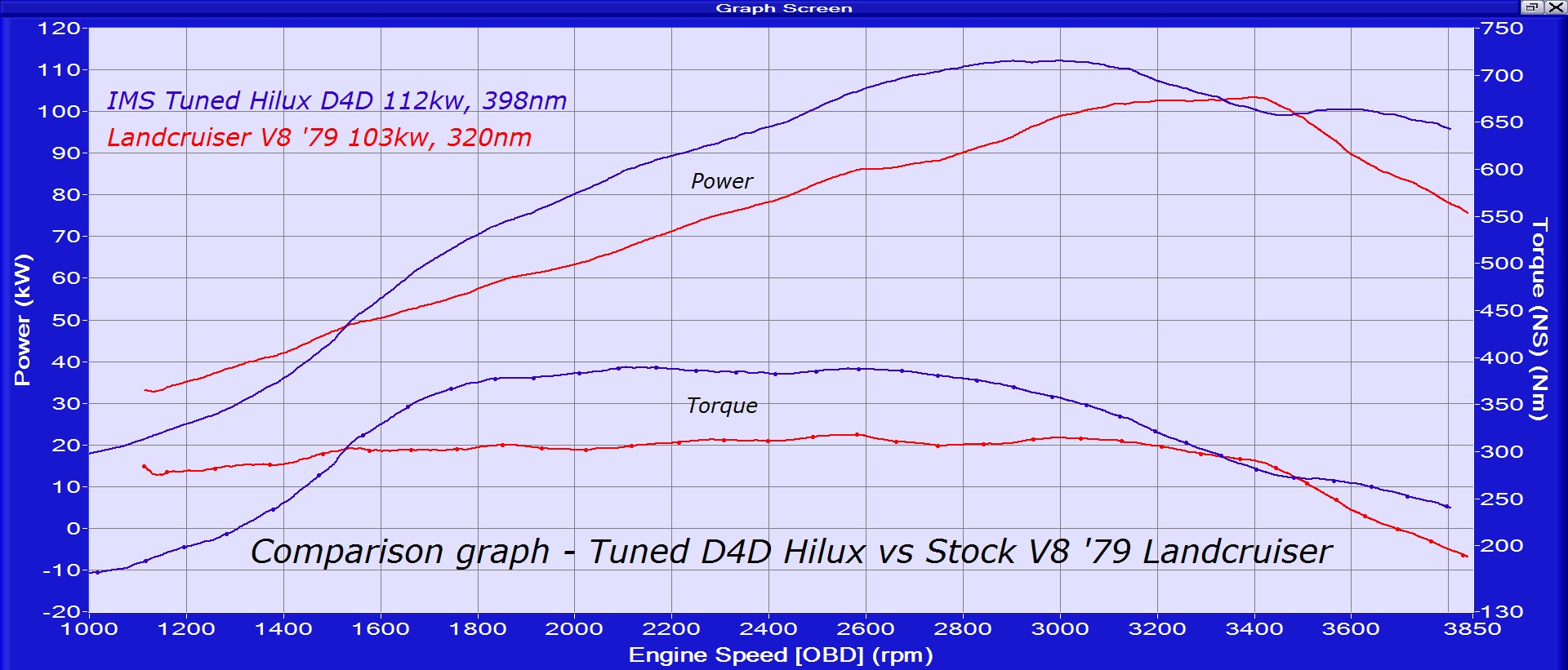 Make:

Toyota
Model:

2014 D4D Prado (auto) 3Ltr
Peak Power –

Before:

85.7 RWK

After:

108.4RWK
Peak Torque –

Before:

250NM

After:360

NM
Tuning Method:

ECU Re-program
Tune Price:

$1200 Incl GST